Potential customers of the iPhone 3G in the U.K. briefly had the option for unprecedented service this morning, as British provider O2 offered people the ability to pre-order an iPhone online, in order to have it delivered—yes, hand-delivered to your very house—on the 11th.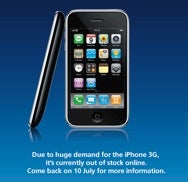 Plenty of people took advantage of the opportunity—so many in fact, that O2 is now saying that the "due to the huge demand for the iPhone 3G, it's currently out of stock online." We presume they haven't run through their entire inventory—a note on the page instructs those interested to come back on July 10th for more information.
But what's most interesting about this, from our stateside perspective, is the fact that the phones get delivered. That would seem to suggest that unlike those in the U.S., U.K. customers won't need to hang around in stores to have their phones activated. AT&T has told us that online ordering will not even be available to those of us in the U.S—we'll have to queue up at 8AM if we truly want to get our mitts on an iPhone 3G.
According to the fine print, taking delivery of the iPhone in the U.K. requires at least an 18-month contract, a credit check, and direct debit. However, the price of the phone is still subsidized in the U.K.—in fact, if you sign up for £45 or £75 plans, they'll give you the iPhone 3G for free (with the cheaper £35 and £30 plans, it'll cost £99). That suggests perhaps the phones being shipped must be pre-activated, though we won't know for sure until Friday.
For those of you not quick enough on the click to snag yourself a delivered unit, it seems likely you'll have to stake out an O2 store/Apple Store on Friday morning. Anybody manage to grab one while they were still available? Let us know.