Iogear on Monday introduced two new "Universal Memory Banks" — flash memory card readerst hat work with Macs and PCs. The 12-in-1 model costs $11.95 and the 56-in-1 model costs $19.95.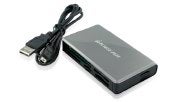 Both devices are designed to simplify the process of exchanging data between digital cameras, cell phones, PDAs and other devices that use flash memory cards. They connect to a host Mac or PC using USB and are designed to take up a minimum amount of space.
The 12-in-1 Pocket Card Reader supports SD, Micro SD, Mini SD, MMC, Memory Stick and MS Duo among other formats. It measures 2.5 inches long and 1 inch deep, and has a built-in cable to avoid blocking other USB ports when in use. The 56-in-1 model is intended for avid digital photographers and works with all popular memory cards, according to Iogear.
Both readers support data transfers up to 480 Mbps and support hot-swap.
System requirements call for Mac OS X 10.3.9 or later.