The nice thing about those Scandinavian telecoms: when their customers complain, the companies listen. Just as Sweden's TeliaSonera reevaluated its iPhone offerings after customers launched a petition, similar efforts in Norway have now borne fruit as well.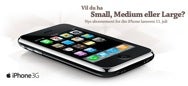 NetCom, which is actually owned by TeliaSonera, has relented after over 3500 customers expressed their disappointment with the limited download plans being offered in the land of the vikings. And so the company unveiled iConnect, a phone plan that will allow for unlimited data transfer on the iPhone 3G, at the pricey rate of 499,- kr/month ($99).
That's not the only price attached: while downloads are unlimited, Norwegian customers taking advantage of the plan will have to pay by the minute for all phone calls, at a rate of 0,49 kr/minute ($0.10) and by the text message at 0,59 kr/message ($0.12).
In addition, the iPhone 3G itself will be more expensive when you sign up with the iConnect plan (which still requires a 12 month contract). The 8GB model will run 3.290,- kr ($652) and the 16GB model will cost a very expensive 4.190,- kr ($830).
While we're glad that Norwegians will have to options to not worry about their data rates, it does seem like it's a pretty expensive proposition, especially if you want to use the phone features of your new iPhone. But at least they can just email each other instead.