At a Glance
Expert's Rating
Pros
Compatibility with many devices
Consolidates many disparate adapters
Attractive design
Cons
Troubleshooting is inconvenient
Expensive
Limited options for charging multiple devices of the same type
Our Verdict
With the plethora of electronic devices at our every beck and call, the space under your desk is probably replete with a tangle of cables carrying power and data. Perhaps you long to bring order to that chaos—if so, The Sanctuary from Bluelounge is here to help.
While it might sound more like the kind of place that a superhero hangs their cape at night, The Sanctuary is actually a 9" x 9" x 1.85" tray molded from solid white plastic with a nonstick rubber base. Inside, it's lined with a black felt bottom that aims to be a home for charging all of your various gadgets, as well as helping you keep track of other vital objects like your wallet and your keys. Looks simple enough, but pull out the false bottom and you'll find something a little more complicated hidden inside: a rectangular power brick with eleven distinct cables. You'll also find an open slot in one side of The Sanctuary for connecting the included AC adapter, which is thoughtfully designed in a slim profile that will not block adjacent plugs on a power strip.
Each cable connected to The Sanctuary's power brick is about nine inches long, and can fit through one of the five notches in the black felt bottom (which can be flipped over if you happen to prefer the tan felt on the opposite side). The adapters are compatible with over 1500 common devices from Nokia, Samsung, Palm, LG, Sony Ericsson, and Apple, and are clearly labelled. There are also mini-USB and micro-USB plugs, an adapter cable that covers "various brands" (certain devices from Audiovox, Logitech, Motorola, Toshiba, and more), and a standard USB port for plugging in other miscellaneous devices. Gadgets that aren't supported by The Sanctuary's included power connectors can still stay in the tray with the rest of your gizmos: just thread their power cables through the opening for The Sanctuary's own AC adapter.
Using The Sanctuary couldn't get much simpler: remove the tray, plug in its AC adapter, find the correct cord for your device, thread it through one of the notches, replace the tray, and voilà. A green LED light on the power brick will tell you that your devices are receiving power—if it starts to blink or dim, it's a sign that you may have too many things connected, and that The Sanctuary has had to reduce its power intake. Though, somewhat inconveniently, you'll have to take all of your devices out, as well as the false bottom, in order to actually see the LED.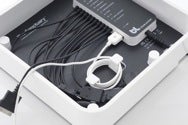 While everything about The Sanctuary works as advertised, there are some issues with the device's practicality. For example, as the owner of five iPods and an iPhone, I quickly maxed out the available chargers for those devices by using the built-in iPod/iPhone connector and the USB port. Which, admittedly, left plenty of room for my keys and wallet, but forced me to resort to my usual charging methods for my other devices—that's fine, but it kind of defeats The Sanctuary's primary purpose. Not everybody will run into the problem, of course, but it seems likely that in most multi-person households there will be more than one device that requires the same connector (think iPods, or family plan cell phones).
Furthermore, since The Sanctuary provides only power and not data, syncing iPods and iPhones will still require you to connect to your computer with a USB cable. If you have multiple devices that need to be connected to a computer, then you'll have to remember to take them out of The Sanctuary every time you want to sync them.
And, of course, the more devices you have that don't quite fit in the The Sanctuary's parameters, the more expensive that $130 price tag starts to look. If all you wanted was a tray to charge your devices, you could easily make one yourself for a fraction of that price. Personally, I would prefer a model that included multiple USB ports, and perhaps had some sort of modular adapter system, so you could swap out the cables you don't need for others that you do.
Mcworld's Buying Advice
If you live in a household strewn with power adapters of all shapes and sizes, The Sanctuary can lend a certain organizational structure to your many electronic devices. On the other hand, if you're looking for a way to charge multiple devices of the same kind, you'll quickly find yourself out of plugs, leaving you with little more than a plastic felt-lined box and yet another power adapter to plug in.