iPresentee added to its arsenal of add-ons for Apple's iWork suite, releasing five new Keynote themes as part of the Keynote Motion Themes 2.0 collection.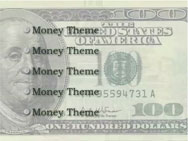 Keynote Motion Themes 2.0 includes five themes for Apple's presentation software—Money (pictured right), Rain, Exercise Book, Story, and Curtain. Each theme comes with 14 or more master slide layouts and moving background graphics.
Each of the five themes costs $10; you can buy the entire package for $25. The software requires the iWork '08 suite.
As with other Keynote themes, iPresentee's Keynote Motion Themes let users add, edit, and format text; add photos or movies; and use the presentation app's transitions and special effects.