Independent Mac software publisher Freeverse isn't just going to have an iPhone game available when Apple launches the App Store. The company on Tuesday revealed plans to offer more than a dozen game titles for the iPhone and iPod touch.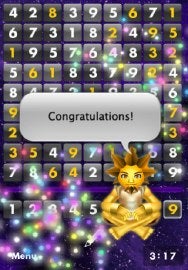 The company will start with Wingnuts Moto Racer, a 3D racing game it's been showing off for a while now. Also available at the opening of the App Store will be Big Bang Sudoku — an iPhone version of the popular number game — and Jared: Butcher of Song, a software toy that was once even ported to the Newton platform.
Wingnuts Moto Racer, originally developed for the iPhone, is priced at $9.99. The game features racing on fast motorcycles through mountain, desert and underground terrains, fending off enemy bikers with a "punch" button as you race from checkpoint to checkpoint.
Big Bang Sudoku sports more than 10,000 puzzles and four levels of difficulty, it is priced at $4.99. And Jared: Butcher of Song will be free. Freeverse also plans localized versions of Moto Racer and Sudoku in German, French, Spanish, Chinese and Japanese.
Freeverse also pulled back the curtain on several other iPhone/iPod touch projects they have in development. The company hopes to release these other new games by September.
Freeverse is working on Big Bang Chess, a version of its chess game re-imagined for the iPhone and support for multiplayer play; Flick Sports, sports game titles including baseball, soccer, bowling and golf; and 3D Card Games, versions of Bridge, Spades, Hearts, Euchre, Pitch-Setback and Crazy 8's.
Freeverse also revealed that it has "several other unannounced games and applications in active development."