Getting an iPhone back in the day—the day, in this case, being June 2007—was no big thing. Just show up early, stand in line, smile pretty for the cameras, buy your phone, and head on home to activate it at your leisure. Oh, what a time to be alive!
Ah, but the world of the iPhone 3G is a more complex place. Not only must you brave the crowds and the organic farming advocates, you also can't activate your new phone from the comfort of your own home— iPhone 3G activation is required at the time of purchase.
It's like the universe as I've known it has been turned on its head.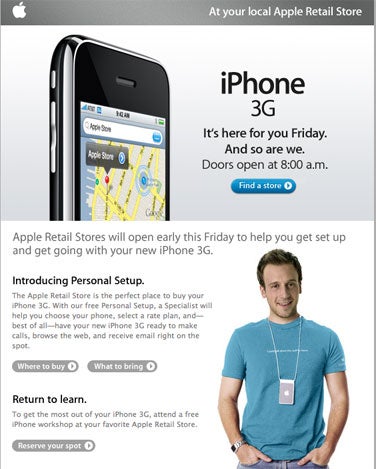 Fortunately, Apple is trying to inject a measure of clarity into this air of uncertainty. The company sent around an e-mail—"iPhone 3G at the Apple Store. 8:00 a.m. Friday" is its evocative subject line—that tells would-be shoppers what to expect when they head to one of Apple's brick-and-mortar locales. The e-mail includes links to a Web page describing how in-store activation will work.
"When you arrive," the Web page reads, "a Concierge in an orange shirt will direct you to the iPhone bay where you can take advantage our free Personal Setup. A Specialist will help you choose an iPhone 3G, review coverage maps, select a a rate plan and—best of all—have your new iPhone 3G ready to make calls, browse the web, and receive e-mail right on the spot."
The Web page also tells iPhone 3G shoppers to bring a credit card, social security number, photo ID, and—for customers new to AT&T—their current wireless account number and password. Customers with corporate accounts need to contact AT&T directly. Apple also advises customers who want the iPhone 3G to access a business e-mail account to check with their IT manager before buying the phone.
As announced a week ago, the iPhone 3G goes on sale at 8 a.m. local time this Friday. Apple says that daily quantities are limited by stock on hand, but that new shipments will arrive daily most of the time. To that end, Apple is resurrecting an online tool from last year's iPhone launch that shows iPhone availability at each Apple Store. Availability for the next day will be updated nightly at 9 p.m.