Apricorn on Wednesday introduced a 160GB version of its Aegis Mini, an external pocket-sized portable hard disk drive with USB 2.0 or FireWire connections. The new 160GB drive costs $259 in USB 2.0 form or $269 in FireWire form.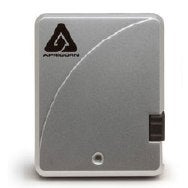 The drive measures smaller than a deck of playing cards and weighs about 3.7 ounces. Inside is a 16-point omnidirectional shock-mounted 1.8-inch hard disk drive. Apricorn includes a padded neoprene travel pouch.
The drive is bus-powered and integrates a data cable (a one-meter extension cable is also included). It also includes Mac software: Shirt Pocket's SuperDuper, Qdea Synchronize X and Apricorn Encrypter.