Gilty Couture has announced a new line of accessories for the Apple iPhone. The company makes collections of accessories in gold, silver, chromium and stainless steel and incorporating Swarovski crystals.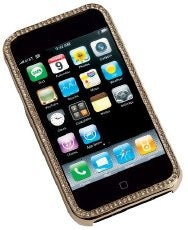 The products aren't cheap, but if you're a fashionista looking to bring some "bling" to your iPhone, it may be just what you're looking for. Gilty makes two-piece metal slider cases that protect the front, back and sides of the iPhone while keeping the controls, dock connector screen and sensor clear of obstructions. The cases are surrounded by 110 hand-set Swarovski crystals and the case is engraved with a Gilty Couture logo. Inside is a foam lining.
The cases come in silver and gold plated finishes, along with chromium and stainless steel, at prices ranging from $129.99 to $299.99 depending on the finish and embellishments.