Unless you've been living in a power-free treehouse for the last few months or so, you've probably heard there's a new iPhone coming out Friday. While I won't upgrade to the iPhone 3G immediately, I would like to get one at some point, primarily for the faster data speed—my iPhone is used for data about 95 percent of the time, so 3G would make a notable difference to me. Although I'm excited about the new iPhone 3G, Friday will be a probably be a bittersweet day for me.
Sure, we'll be seeing some cool new hardware, and some cool new software—Friday also marks the release of iPhone 2.0 software for all iPhone users, including those of us with the first-generation machines. While the iPhone 2.0 software has some nice new features, it's also now known that it doesn't include a lot of things we've discussed here over the last year: still missing in action are voice dialing, stereo Bluetooth headset support, and the oh-so-advanced technology known as copy-and-paste. But the omissions in the 2.0 software aren't the source of my mixed feelings about Friday at all.
No, the thing that's got me feeling both good and bad about Friday is the other thing that happens once the iPhone 2.0 software debuts: the opening of the App Store, Apple's online repository of free and paid-for third-party iPhone software. The App Store will only be available to those running version 2.0 of the iPhone software, so anyone who wants to (or needs to) use the App Store will have to upgrade. Yours truly falls squarely in both buckets—I want to use the App Store, and I need to use the App Store in order to write about some of the cool new applications available for iPhone users. However, in order to do this, I need to say goodbye to my much-loved iPhone 1.1.3 sofwtare (no, I never upgraded to 1.1.4, the latest version available).
When I upgrade on Friday, I'm going to lose a bunch of close friends—all of the third-party programs I've been running on my iPhone since last August. That's right; my iPhone hasn't been in stock form since roughly three months after I received it. So for nearly a year now, I've had access to a great assortment of third-party programs that turned my iPhone from a "simple" web-phone-e-mail device into a do-it-all technology solution.
As of this very moment, that's a collection of 38 applications. Thanks to the ability to add pages of icons to the iPhone, though, my home screen looks stock. It's only on the pages beyond that where you can see the depths of my phone's expanded capabilities: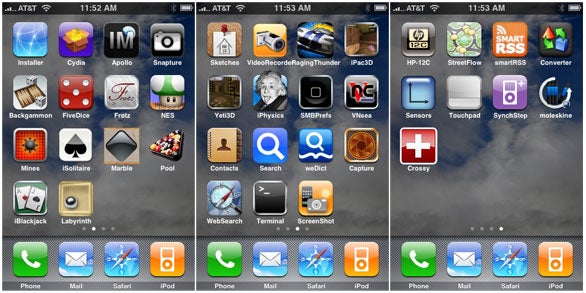 Everything from productivity (Apollo for iChatting; Snapture for better picture taking; WeDict for fast dictionary lookups, WebSearch to search the web; VNC for remote Mac connections) to fun (NES, a full-blown Nintendo emulator; Labyrinth, a recreation of the wooden marble-on-table-with-holes game of yesteryear; RagingThunder, a 3-D driving game) to customization (SMB Prefs to tweak the iPhone's look) are handled by my collection of applications…and I'm going to miss each and every one of them come Friday. That's the "bitter."
But the "sweet" is that, starting Friday, I'll have access to a collection of what will probably be thousands of third-party applications for my iPhone—many of which will hopefully duplicate the capabilities of my current collection (though I'm not sure Apple would approve of something like the NES emulator).
Even more exciting for me , though, are the new apps coming along that I haven't yet considered. Between the iPhone's wonderful user interface, its locating abilities (even if limited to cell tower location in my generation of the iPhone), and its sensors, I think we're going to see a huge assortment of innovative and useful third-party applications. Hopefully we'll be able to fill most of the holes on the 25 native iPhone apps list we put together this past spring.
So out with the old, and in with the new—while I'll miss my old friends, I'm looking forward to making a number of new friends in the coming weeks.