If you're in an unfamiliar city, remembering where you parked can be tricky, even moreso if you're also driving an unfamiliar rental car. Last month in my video collection of Stupid iPhone Tricks I suggested that you use your iPhone's camera to take a picture of where you parked so you could find it later.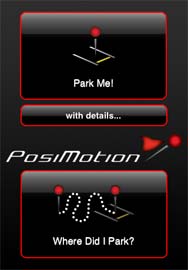 Posimotion's G-Park takes a more high-tech approach. When you park your car, launch G-Park and press the Park Me button. The iPhone 3G's GPS takes over, pinpointing your current location. Later, when it's time to return to the car, open G-Park again, press Where Did I Park? and the program will plot a route back.
Of course, there are some drawbacks. If you're parked in a multi-level structure, it won't be able to tell you which floor you're on—and in fact, you probably won't be able to get a GPS fix until you step outside. But that's what the "with details" screen is for: it provides a Notes box and a series of input wheels let you put in more specific information about exactly where you've parked.
Will G-Park change our lives irrevocably? No, I don't suppose so. But when I've parked in some random back street in some city I don't really know, now I'll be confident that I won't be wandering the streets hoping to spot a car I recognize.