Apple has posted a new application that helps you manage your iPhones in a corporate environment: the iPhone Configuration Utility. It's available in OS X and Windows flavors and there's also a Web Utility for Mac.
The configuration utility lets you set up configuration profiles and install provisioning profiles as well as applications, and lets you get information about iPhones, including their console logs. Configuration data can include security policies, VPN information, Wi-Fi settings, Exchange account settings, and certificates that allow you to use your iPhone and iPod touch to work in an enterprise environment.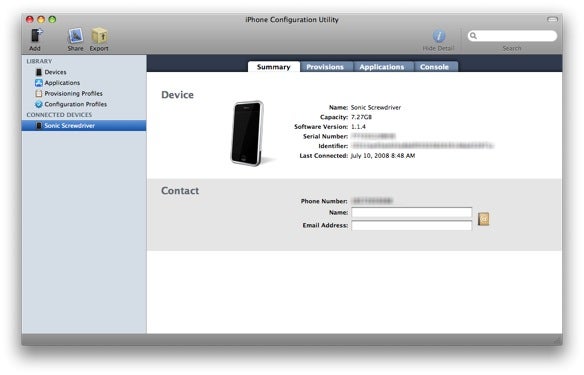 Presumably, this covers the ability to deploy applications in an enteprise environment, a feature that Steve Jobs touched upon in his Worldwide Developer Conference keynote speech last month. Further information on deploying the iPhone in an enterprise environment is available on Apple's site, including a full overview of the iPhone Configuration Utility (PDF link).