Even before Apple's iPhone 2.0 software has become available, Apple has introduced the App Store as a feature of the recently-released iTunes 7.7. This way, users can get a head start on purchasing and downloading software for their iPhone and iPod touch, even if they can't run it quite yet. Here's a first look at the new service and how it works.
Anyone who's spent any time in the iTunes Store should be instantly familiar with the App Store. Access and navigation is identical — the App Store shows featured applications, along with categories, "Quick Links," a "What's Hot" list, and a "Staff Favorites" list. Each application name is accompanied by its category listing and its icon as it will appear on your iPhone or iPod touch.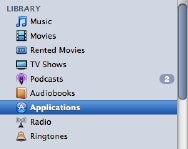 A new icon appears in iTunes' Library pane called Applications. This is where apps you've downloaded from the App Store live on your computer. And if you've purchased games for an iPod classic, fifth-generation iPod or iPod nano with video, this is also where those games have become categorized. In the lower right hand corner of the Application window are links to let iTunes check your downloaded applications for updates, or to navigate directly to the App Store to look for more.
Apple has broken out applications into a dozen and a half separate categories ranging including business, education, entertainment, finance, games, healthcare and fitness, lifestyle, music, navigation, news, photography, productivity, reference, social networking, sports, travel, utilities and weather. They've also thoughtfully included categories of iPhone applications, iPod touch applications and free applications to make it easier for you to find content you're interested in.
Applications pages feature more detailed information about the application, screenshots and other helpful content. Some apps also have much more elaborate landing pages with splashy graphics, similarly to featured albums on the iTunes Store.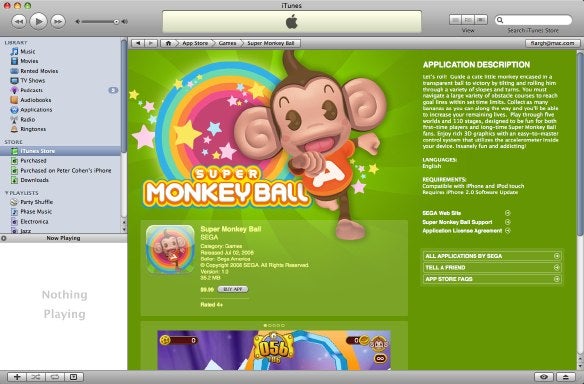 Prices, as we've discovered since WWDC in June, are up to the developer to set, so there's no uniformity. Many apps are free, others are priced at 99 cents or $4.99, and $9.99 seems to be the most popular price for many applications that have launched with the App Store's debut. That's not the limit, however: Netter's Anatomy, an educational medical anatomy "flash card" application that is receiving front-page placement on the App Store this morning, costs $39.99.
Parents considering buying games for their kids may be interested to note that Apple is including age ratings to help identify appropriate content — the ratings also include descriptors that let you know what you might find inside — a racing game may include a descriptor of "infrequent/mild cartoon or fantasy violence," for example, while a poker game may indicate "simulated gambling."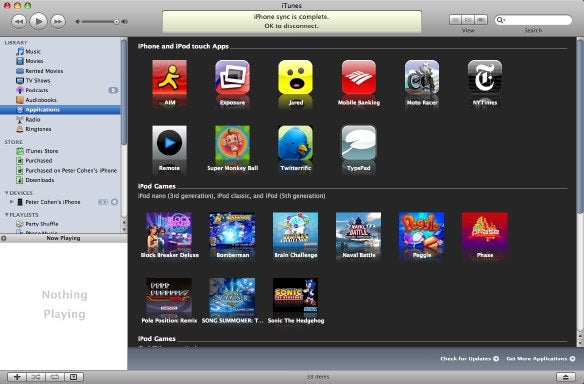 Once the iPhone 2.0 software has launched and you've installed the software on your iPhone or iPod touch, you'll be able to synchronize the applications you've downloaded onto your device. As with movies and music, you can either synchronize all applications or just selected ones. And as with iPod games, the apps you've downloaded from the App Store are designed to run specifically on your mobile device, not your Mac, so there's no way to "preview" an application before syncing it.
Similarly, the iPhone 2.0 software enables you to buy applications directly on the iPhone or iPod touch, exactly like you've been able to do with music from the iTunes Store. And just as with that music, if your Mac finds applications on your device that aren't on your Mac, it will ask you if you want to transfer those back to your iTunes library.
Once you have the iPhone 2.0 software installed, syncing applications to your iPhone or iPod touch is the exact same process as syncing songs or videos. Many applications are quite compact and shouldn't take very long to transfer over — I spent the most time transferring a couple of large games. I've got about two dozen applications installed so far, which is using up about 375MB on the phone — a minimum amount of space even on a low-end iPhone model. All of the applications are stored in a newly-created folder inside your iTunes music folder called "Mobile Applications," and they're tagged with the .ipa file identifier.
Expect, if you've been gleefully downloading free and paid for applications, that your first iTunes to iPhone sync is going to take a while. Also expect that your first backup — something that typically happens automatically when you reconnect your iPhone to your Mac and iTunes begins to sync — will also take some time. After all, there's a lot more data there than before.
Once installed, you're free to operate the applications, arrange them on the iPhone any way you like, and use them to your heart's content.
iTunes handles iPhone and iPod touch applications a bit differently than iPod games. iPod games listed in iTunes can be double-clicked on — their package contents contain help files that include information about the game, screenshots, control maps and more. Double-clicking on an iPhone or iPod touch app in iTunes does nothing. The best you can do there is to control-click on an app, which will bring up a contextual menu. You can get info about the application to find out a bit more about it, such as purchase date, age rating (if applicable) and size.
Editor's note: Updated 3:12PM Eastern Time with additional details about syncing applications to iPhone.