Among the first programs available in Apple's newly launched App Store is a free application called Remote (iTunes link), developed by Apple itself. Remote lets you control your iTunes library or an Apple TV all from your iPhone or iPod touch.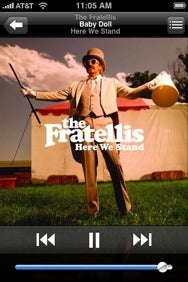 When you first open the app, it'll look for iTunes libraries on your local network (you'll need iTunes 7.7 for this to work, and you'll have to enable "Look for iPhone & iPod touch Remotes" under Preferences -> Advanced). The iPhone version of the app will provide you with a four digit passcode that you'll need to enter in iTunes.
Meanwhile, your iPhone or iPod touch will show up under a Devices heading in the iTunes Library source list; when you select it, you'll be asked to enter the passcode. That prevents you from doing naughty things like taking control of your neighbor's iTunes library when they're—ahem—borrowing your Wi-Fi network.
There is, however, support for multiple libraries. When you start up Remote after associating with a library, it'll take a second to reconnect, during which time you can change which library you want to use (you can also tap the Settings button in the top left corner of any list screen). That'll give you the option to add multiple libraries, delete existing associations, and toggle a "Stay Connected" preference (not precisely sure what that does at present).
Once you've entered the passcode, you'll have full control over your iTunes Library through an interface that's virtually identical to the iPhone's iPod application. The Now Playing screen gives you full screen album art, previous and next track buttons, and a play/pause control, as well as a volume slider (when you adjust the slider, you'll see the volume slider in iTunes on your computer adjust simultaneously). You can also double tap the album art to bring up the track listing for an album or single tap to bring up additional controls, including shuffle and repeat options and a scrubber.
In list mode, five buttons appear on a bottom toolbar that allow you to pick (by default) from Playlists, Artists, Albums, Search, and More (which gives you access to Audiobooks, Composers, Genres, Movies, Music Videos, Podcasts, Songs, and TV Shows). But, as with the iPod application, if you select More and tap the Edit button in the top right, you can rearrange which buttons are on the toolbar.
The Search button is new to the Remote app, but it works much as you might expect: tap the search field and enter your terms, and it'll display a list of results for that string (mostly live, though it took a second if there were a lot of hits). Selecting an album or artist will you browse their songs, while tapping a song will start playing it.
There is one missing feature that you'll find in the iPod application that you won't find in Remote, however, and that's Cover Flow. You can turn the phone sideways as much as you want, but you'll just find yourself staring at the off-kilter album art. Fun as that may be, however, it's not particularly useful.