Among the notable gaps in the original iPhone functionality, one of the most prominent was instant messaging. iPhone users have long had to make do with web clients, SMS messages, or jailbreak apps. But at last there's an official native IM client from the iPhone—provided you use AOL's Instant Messaging network.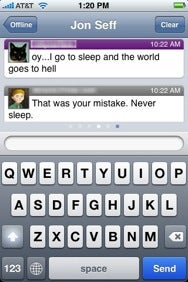 AOL's AIM client (iTunes link) is pleasantly straightforward: when you login, you'll be asked to login into an existing account on AIM, .Mac, or MobileMe. Four toolbar icons across the bottom let you access your buddy list, favorite contacts, personal info, and current IMs.
At the top of the buddy list hierarchy is groups: you can see a list of your groups pulled from AOL's servers, and how many contacts in each group are online (there are also a pair of handy "online" and "offline" groups that do much what you'd imagine). Tapping a group shows you all the currently logged in contacts, including their state (idle, away, available), status message if any, and buddy icon. If you tap the Edit button in the top left of a group you can add or remove users from that group—unfortunately, it doesn't look like you can assign a pre-existing contact to a new group; rather it lets you add an entirely new contact.
You'll also notice a blue arrow next to their screenname that will give you that user's profile, which includes their buddy icon, status message, group, and nickname. You can edit the group or nickname if you wish, though somewhat disappointingly, there doesn't seem to be an automatic tie-in with the iPhone's contacts database. Two buttons let you send the user an IM or add them to your favorites list.
The favorites list is just a list of your favorite contacts; it displays like any of the groups, but shows you both online and offline contacts. You can remove contacts from favorites if you like by tapping the Edit button or by swiping across the contact's screenname.
The My Info pane shows you your picture (which you can tap to change) and lets you change your status to Available, Away, or Invisible, and set a status message by tapping Message.
Finally, the IM section: the meat and potatoes of any instant messaging client. The app displays a list of all of your current IM conversations, including the number of unread messages you have for each of them. Tapping a conversation will take you into a standard IM conversation where you can read your correspondent's messages or send them a reply. The layout's pretty snazzy: it'll show you your contact buddy picture, and their message in a nice, clear box, along with a time stamp.
Even more conveniently, if you're carrying on multiple IM conversations at once, there's no need to go back to the conversation list every time you get a message from someone else. Just above the text input field, you'll see small dots representing your different conversations (just like those in Safari that display multiple pages). To switch to another chat just flick the conversation part of the screen.
One thing that's a little tricky about AIM is if you want to use multiple screen names. Once you've logged in for the first time, AIM won't prompt you for your username and password again—it'll just log in with the same credentials you gave it at the beginning. If you want to change accounts, you'll have to go back to the iPhone's Home screen, tap the Settings application, then scroll down to the new AIM section at the bottom. In there, you can change the account information, as well as whether or not AIM logs you out every time you leave.
Instant messaging on the iPhone may not be quite as robust as it is on the desktop, but it's an addition that we've long been waiting for.