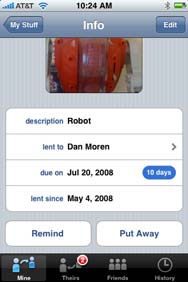 Hey, that guy owes me money!
Do you ever lose track of who owes you stuff, and what stuff you've borrowed from others? Oh, boy, I do. I have a book sitting on my shelf that I've "borrowed" for almost a decade. (Sorry, Jim, I'll give it back the next time I see you.)
Who needs to store that stuff in your brain when you can do it on your phone? That's the premise of the Coding Monkeys' $6 Circulator, released today on the iTunes App Store.
Circulator lets you keep track of what stuff you've borrowed and what you've lent, including the day the loan started and the due date of the item in question. You can attach a picture of the item and associate it with a particular contact in your Contacts list.
From the Friends tab, you can see all your friends who you've exchanged with. Touch an item and you can send a reminder (via SMS or e-mail) to your friend, telling them that they've only got a couple more days to get you that $20, or apologizing for borrowing their book for eight years or so.