There's nothing more fun than scrawling big black mustaches on posters. Except, perhaps, scrawling big black mustaches on the faces of your friends.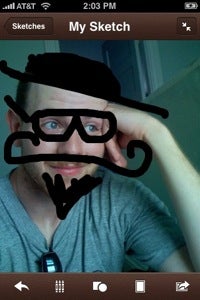 Still, most of the people I know don't take it very well when you lunge at their faces with a permanent market, so settle for the virtual equivalent with LateNiteSoft's $8 Sketches. Sketches, which started life as a jailbreak app, lets you draw all over your iPhone, including on pictures that you import from your iPhone's photo albums or camera.
Of course, impromptu facial hair is only one of the many tricks Sketches has up its sleeves. You can draw in a variety of different colors and line thicknesses, insert geometric shapes and clip art (using a pinch gesture to pick different sizes and place it on your canvas), even insert a picture from the web or a map of your current location (handy for drawing directions!). And if you make a mistake, just hit the undo button or—to get rid of your entire drawing—shake the iPhone like the proverbial Polaroid picture.
When you're done with your masterpiece, you can use Sketches's share feature to send it to your Photo Album or post it on social networking service Twitter. And, of course, Sketches saves your drawings, presenting them in a nifty corkboard format that's easy to scroll through, so you can show off your creations to all your friends.