Have you ever wished you could record voice notes on your iPhone? With the App Store, 2.0 software, and Jott (free), now you can. Jott is an online service that lets you record little notes and to-dos, and access them from anywhere via a mobile phone or web browser. Jott on the iPhone is a really nifty front-end to Jott's online service. Sure, you can type your notes on the iPhone, but that's old fashioned. Instead, just touch the screen to start recording your voice, and touch it again when done.
Once you've recorded your note, your voice message is transmitted to Jott's server, where it's transcribed. I recorded a number of test notes, and was quite impressed with the accuracy of the transcription. Until it's transcribed (which can take a few minutes), you'll see your note labeled as "Waiting for transcription" in the Jott interface (but you can always press Play to hear it). Once transcribed, the text is added to your recording. Recordings can be sorted into folders that you create, making it easy to use Jott for multiple tasks.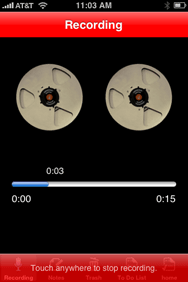 I did have a bit of problem when using Jott. The first time I recorded a voice note, it seemed to work fine. While waiting for it to transcribe, I went to the Jott web site in Safari on my Mac, and logged in to my account. (The web and the iPhone application work well together, with changes in one location seamlessly moving to the other.) My recording was there, already transcribed. When I launched Jott on the iPhone again, though, it failed to load, simply bouncing back to the home screen. Even a full power-off reset of the iPhone failed to fix the problem.
I eventually fixed the problem by uninstalling the app, then installing it again from the App Store—luckily, it's a free program. I'm not sure what you would do if this happened with a paid-for program.
Note that because Jott is an online service, you'll need an account on their system, which requires providing them with your mobile phone number and an email address. Also keep in mind that every note you record on your iPhone will pass through their service to be transcribed—so it's probably not best to use Jott for top-secret work-related notes. For everything else, though, I love the ease of recording and the automatic text transcription of those recorded notes.