The iPhone's always—and by always, I mean since the dawn of time—been a great way to show off pictures: its big, crisp screen makes photos look gorgeous, and its ability to rotate seamlessly between portrait and landscape let you easily orient your pics for the best effect.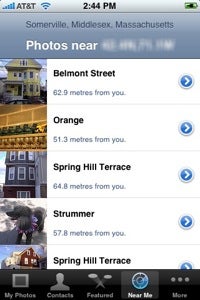 But if you've wanted to flip through something other than the photos you've synced to your phone or taken with your iPhone's limited camera, you've been limited in what you've been able to do. Fortunately, if it's pictures from social networking site Flickr you're after, Connected Flow's got you covered with Exposure.
Available in a free ad-supported version and a $10 premium version (the features are the same), Exposure lets you browse through all of Flickr from your iPhone, skimming photos from your contacts, those with a particular tag, or Flickr's featured pictures. You can view photos in full screen mode (either portrait or landscape), or take a look at their tags, description, and other metadata—even browse the comments associated with a particular photo or add your own comment.
However the most fascinating feature of Exposure by far is using the iPhone's built in location service to browse pictures that were taken near your current location. One the one hand it's kind of eerie—on the other, it's indescribably futuristic to see a picture of your street taken by a complete stranger. And then a picture of your house. And one looking in the windo—hey, wait a second.
Exposure also lets you share pictures you enjoy with your friends by tapping its share button and emailing a link to the photo or posting it to Twitter using Twitterrific so you can share it with all of your friends, far and near.