In a story in this very space a few months back, we profiled Google's plans for the iPhone, in which Google vice president of engineering Vic Gundotra said his company expected "to have applications at Day One" of the iPhone 2.0 and App Store launches.
Google made good on that vow Thursday releasing Google Mobile App. Think of the free program as a unified search tool that lets you look for Web sites, contacts, and even businesses near your current location—all at the same time.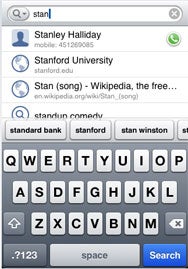 Once you start typing in a search term, search suggestions appear. These can take the form of actual Web sites (which appear with a Web icon in a vertical list) or Web search terms, which run along the bottom of the screen. In a helpful video demo posted on the Google Mobile blog, typing "baseball" produces links to the Baseball Hall of Fame and Baseball Reference Web sites as well as search terms like "baseball cards," "baseball gloves," and "baseball scores." Pressing the Web site link takes you directly to the Web page via the iPhone's built-in Web browser, while tapping the search term yields a Google search results page.
Google Mobile App also lets you search for contacts stored on your phone—they're set apart by a Contact icon on the left-hand side of the search result and a green phone icon that lets you call them directly from the app.
The program's Search with My Location feature taps into the iPhone's ability to detect your location in order to help you find businesses near you. Type "pizza" and, amid the assortment of Web page results, you'll see a "Search for 'pizza' near me" option. Tap it, and you jump to the iPhone's Maps application—all the pizza places in your immediate vicinity will appear on the map.
Other tools in Google Mobile App include a search history feature that lets you revisit recent searches and the ability to launch other Google mobile products such as Gmail and News.
The 0.6MB application works with either the iPhone or iPod touch and the iPhone 2.0 software.