Freeverse Software's debut game on the iPhone is a challenging 3D vehicle racing game called Wingnuts Moto Racer. It's available from the App Store for $9.99, and it's loads of fun.
In Wingnuts Moto Racer, you take the streets in a hot-rodded chopper, racing other computer-controlled drivers on ten different courses, varying from desert terrains to the mountains to the beach. Your goal is to make it through checkpoints before your time runs out.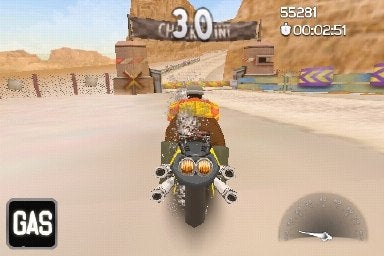 Occasionally you'll be accosted by members of rival biker gangs who can take a swing at you as they pass you buy (shades of EA's classic motorcycle racing game Road Rash) — you can also take a swing at them (a fist icon appears when they're in range. But ultimately it's you against the clock as you try to reach the finish line in ten progressively more difficult races.
Controlling your bike is simple and intuitive — you accelerate using an on-screen "gas" button, and you bank your bike to the left or right through turns in the road by tilting the iPhone or iPod touch whichever way you're going.
Wingnuts Moto Racer has an original soundtrack, bright and lively graphics and animation, and superb programming by Daniel Labriet — an independent Mac programmer from France who, under his own Danlab Games brand. been responsible for hit Mac shareware titles like Jammin' Racer and Islands Mini-Golf.