Are you a news junkie? Can't ever get enough of the local and/or national news stories of the day? If that description fits you—and it certainly fits me—then there are a couple of iPhone applications you really should check out. Mobile News Network (The Associated Press, free) and NYTimes (The New York Times, free) can keep you up-to-date on all the happenings around the globe, as well as in your particular corner of the planet.
The NYTimes offers just what you'd expect—content from the New York Times, classified into a number of sections, including Latest News, Business, Opinion, and a Photos section where clicking on an image will take you to a story associated with that image. Stories can be read in either portrait or landscape mode, and the summary page for each category shows headlines, a small portion of the article, and a photo (if applicable).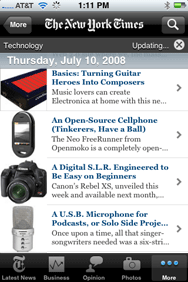 Along the bottom of the screen are quick access buttons for Latest News, Business, Opinion, Photos, and More (for the additional categories). I couldn't find a way to customize those quick access buttons, unfortunately—I'd prefer to have Technology over Opinion, for instance.
Given that this is the New York Times, the focus is clearly national and global; you'll find precious little information about what's happening in your neck of the woods. While it's nice to be able to read in landscape mode, reading is about all you can do—there's no way, for instance, to email an interesting story to a buddy, nor can you save a story for later reading.
The AP's Mobile News has those features covered, and also offers the ability to see local stories. The first time you launch Mobile News, though, you might think you launched NYTimes instead—the two programs' interfaces are nearly identical. The main page of Mobile News shows a headline and photo (if applicable), but no story text. At the bottom of the screen are quick access buttons for Top News, Local, Sports, Showbiz, and More. Within More, in addition to extra categories, you'll also find Settings (to control how long stories are saved, to update the news, and to add more locations) and Search (to search for news). Testing Search, however, all I was able to do was make the Mobile News app crash back to the home screen.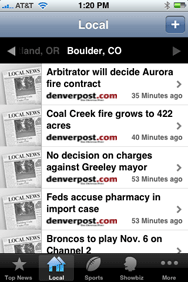 The real strength of Mobile News is the ability to set up a number of locations for local news. By default, it will set up your current location as one of your locations, and you can easily add others. When you then visit the Local tab, you'll only see stories from that area; using a sideways scroller at the top of the screen, you can easily flip between multiple locations.
Mobile News is also a portrait-mode-only app, so you can't read in landscape mode (unless you like reading sideways, of course). At the bottom of each news story, there are four buttons—you can SMS or email the story to a friend, actually send in a report on a story if you have personal experience to add (and you can include a photo!), and a button to save the story. Saved stories can be read in the Saved category, under the More button.
Between Mobile News and NYTimes, I now have fast access to way too much information at all times, without ever having to load a news site in my iPhone's web browser.