If you're anything like me and my friends—and I hope for your sake, that you are not—it can take hours to decide precisely which movie you want to go to. And that's when you have a resource as handy as an iPhone, and all its attendant applications for checking out movie showtimes.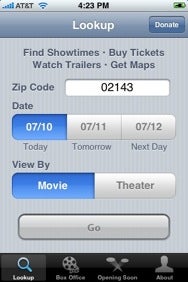 For one, there's Jeff Grossman's Movies.app. The free application is your one-stop shop for movie information. It lets you look up showtimes up to two days in advance, sort the results by film or by theater, and even watch trailers of the film in question. Once you've found the theater and showtime you're looking for, Movies.app's job isn't done yet. You can buy tickets via the web or plot the theater's location on a map, so you don't get lost on your way there. Movies.app also features a Box Office section that shows you which movies are raking in the most dough, and an Opening Soon section, which lets you flip through the films that are coming out in the next couple weeks.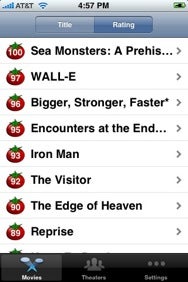 Of course, that's not the only movie-related application you'll find on the App Store: Cyrus Najmabadi's free Box Office serves a similar function, providing you with movie showtimes organized by film and theater. But Box Office throws in another useful feature: it'll display ratings for each movie, pulled from Rotten Tomatoes—that way, you'll know if the picture you and your friends want to go see is a hit or a dud. Like its competitor, Box Office can give you a map of the theater's location and let you purchase tickets online, but it also provides a tappable phone number, just in case you want to call to double check something.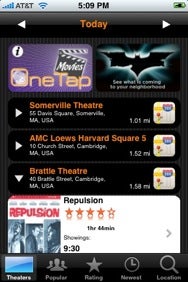 Then there's Avantar LLC's $2 OneTap Movies. Like the others, it provides showtime information for movies in your area, but it does it with a slick collapsible list of theaters, ordered by proximity to your location (determined from the iPhone's location services). View trailers by tapping on the movie posters, sort by critics' ratings, or view the most popular or newest movies playing in your area. And, like the other apps, you can get directions to the movie theaters or purchase tickets online if you'd like.
Between these three applications, you should have no excuse for not being able to find a movie that everybody will enjoy. Or, at least, a theater playing different movies that you'll each enjoy.