Games have been available for iPod users for some time, but they're even more a natural fit for an iPhone. The first round of poker apps offers four eight games with different approaches.
Apple's own Texas Hold'em ($4.99) lets you play the popular poker game against computerized opponents (just like the iPod version of the game) or lets you match up with up to nine friends over a Wi-Fi network (I see Macworld's productivity dropping quite a bit in the near future). By rotating your iPhone or iPod touch, you can switch between first-person and top-down views.
Fullpower Technologies' MotionX-Poker ($4.99) combines dice with poker hands. The iPhone's built-in accelerometer lets you shake it to roll a set of 3D dice to create a 5-card poker hand.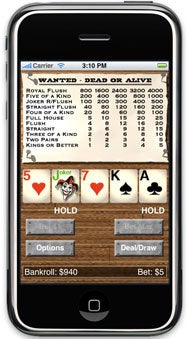 Glenn Seemann's Fast Draw Video Poker ($4.99) takes three different video poker games—jacks or better, deuces wilds, and joker poker—and injects the spirit of the Old West with wanted-poster payout schedules. You bet from $1 to $5, discard and draw (like a gunslinger—get it?), and get paid according to your hand.
The least expensive of the bunch, Griffin Technologies' 5 Card Touch ($1.99) is another video poker application (jacks or better only in this one) that stakes you with $1000 (virtual cash, that is). You bet one to five credits, tap the Deal button to start a hand, and then choose which cards to discard. Winnings are determined by your final hand—a pair of jacks, queens, kings, or aces pays out the minimum, while a royal flush is worth the most.
I'm sure there will be more poker apps in the near future, and I'll keep my eyes open—now if someone would only release a Pai Gow app, I'd be really happy.
[In fact, I found four more poker apps after posting this. MobilityWare's $1.99 Video Poker (another jacks or better game), Candywriter's $9.99 Imagine Poker (Texas Hold 'Em against historical characters such as Dracula, Robin Hood, and Napoleon), Publisher X's $9.99 Reel Deal Video Poker (with multiple 5-card poker games), and Yoichi Nakano's $2.99 TouchPoker (video poker with standard and joker's wild games).]
[Updated at 4:37PM Pacific time to include four additional poker games.]