We've had an internal debate in the Macworld offices this week about how big a deal Friday's iPhone 3G launch will turn out to be. I mean, certainly, we think it's big in the sense that people are interested in the updated phone and will upgrade in significant numbers. But is it… you know… camp-out-in-front-of-your-local-retailer-for-hours big?
Consider last year's original iPhone launch. By this time—t-minus 16 hours and counting—brave souls were already massing in front of their local Apple Stores to try and be among the first to grab the new phone. We had correspondents filing reports from coast to coast.
This year? Not so much.
The iPhone 3G launch has the feel of a major OS X release—people are excited and, sure, some are going to queue up just to be a part of the happening. But for most upgraders, whether they get the phone first thing Friday or some time over the weekend, it's all the same to them.
That seems to be the prevailing attitude here in the States at least. Overseas, where they've been best by iPhone envy for more than a year, it's an entirely different story.
I received a dispatch today from Ken, a friend of mine with whom I write a baseball blog when I'm not consumed by all things Mac. Ken is visiting Sweden, where baseball is not terrifically popular, but that's neither here nor there. What does appear to be terrifically popular, however, is obtaining an iPhone 3G from local provider Telia Sonera. Ken reports:
This is one block from my brother's apartment in Malmö. They're lined up in the rain right now, probably about 50 people or so, waiting for midnight to get the first Swedish iPhones. The attached photo was taken with four hours to go.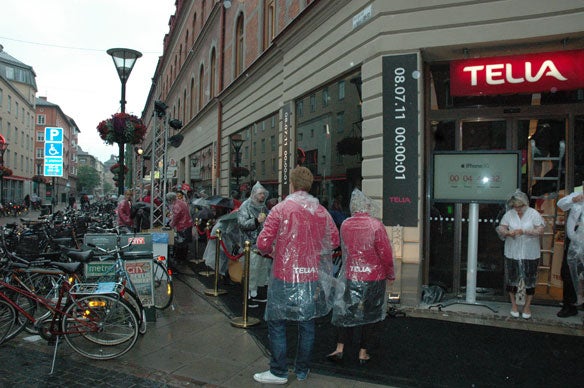 So that's one report from Malmö, at any rate. How about you? Have you seen crowds queuing up for the iPhone, whether it be here or abroad? Are you planning on queuing up?