Late Thursday, we wondered in this space whether the iPhone 3G would attract the kind of crowds drawn to last year's iPhone launch. The answer appears to be an emphatic "yes, it will"—at least when it comes to one location.
Jonathan Seff went out to pick up an iPhone 3G Friday morning as part of a story we're working on about the activation process. Since time was of the essence, Jon decided to skip the flagship Apple Store on Stockton Street and head to a presumably less busy Apple outlet. So it was off to the Stonestown store for our intrepid editor.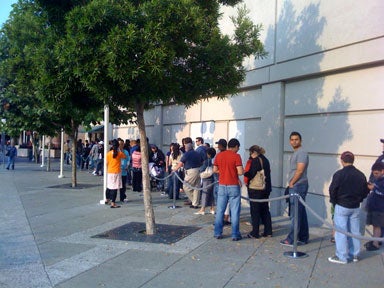 Jon arrived at the mall about half-an-hour before the 8 a.m. launch time. By his count, he was the 120th person in line, which had already gone from the Apple Store through the mall and out the front door.
As I write this, the doors have opened and Apple Store employees have begun selling the new phone to the first batch of customers. According to the chatter Jon's been hearing, the store hopes to activate 200 customers per hour. We'll check in with him later to see if they make good on that guess.
It might prove to be a challenge. Jon just IM'ed me to report that word is spreading through the line that the activation service has gone down. (The U.K. launch was marred by similar problems.) So stay tuned.
Update, 8:45 a.m. PT
Many other users are also sounding off, on Twitter and elsewhere, about Apple's iTunes activation servers being down.
TidBITS and Macworld writer Jeff Carlson reported on Twitter that at the University Village store in Seattle, the first iPhone sale didn't take place until 38 minutes after eight o'clock.
Our own Jonathan Seff reported something similar, citing store claims that the entire activation system was down until approximately 8:45 a.m.
Former PC World Editor Harry McCracken reported a 45-minute long process that should have taken 15 minutes if it had gone "as planned."
Update, 9:15 a.m. PT
TechRepublic editor Jason Hiner reports that in his line in Louisville, Kentucky, an Apple representative just said, "We're looking at considerable delays," indicating that it might be a three or four hour wait for a phone. Hiner went on to report that an Apple representative had indicated that all activations had stopped temporarily and might not resume for some time. And indeed, our Jonathan Seff has also heard that it's down again.
UK activation frustration
We just got this dispatch from Macworld UK's Jonny Evans:
Yet more misery as [UK cell provider] O2 faces its worse day yet, with what should have been the highest-profile, most successful product launch yet swiftly degenerating into a shambles. Following failed activation systems prohibiting purchases at stores, now iPhone owners are being hit by locked phones as they try to install iPhone Software 2.0.
What is happening is that people's existing iPhone's are being "bricked" (the term means to be made as useless as a brick) as users attempt to install the software update. This is because part of the updating process demands iTunes activate the phone.
Now it appears Apple's – or O2's – servers are unable to keep up with the demand for authorisations through iTunes, leaving many iPhone owners – new and old – facing a bricked, dead and erased mobile device.
Those who have been able to contact tech support are being asked to remain patient, with O2 saying it has been overwhelmed and the Apple/O2 combo are unable to keep up with the demand on the iTunes Store. "Engineers are looking into it," apparently.
The result is an iPhone stuck in limbo. It's got the new software on board, but without being activated by Apple's servers, it'll only make emergency calls. I have heard close to a dozen reports of this problem since returning to my office 20 minutes ago. I am also affected. The companies concerned are also aware of the problem, but with millions of iPhones being updated at the same time, it's unlikely to be fixed any time soon.
9:42 a.m. PT: Live from New York—it's activation problems
Elizabeth Montalbano and Marc Feranti of IDG New Service report on the activation problem on the east coast. You can get the complete article at PCWorld.com.
Some of the first people in the U.S. to purchase the iPhone 3G walked out of an Apple Store in New York disappointed Friday when Apple's plan to activate the new devices in stores backfired.
Problems with the iTunes server caused some enthusiasts who had waited in line for hours to walk out of the store unable to use their new iPhones, according to the disgruntled customers.
"I've got two phones on me and neither of them work," said Adolfo Peralta, a Brooklyn resident who lined up to purchase the iPhone 3G at 6:30 a.m. local time for the 8:00 a.m. SoHo store opening. "I have to go find a pay phone to make a phone call."
Apple Store employees deactivated his original iPhone to activate his new one, but the activation could not be completed because they could not connect to iTunes, he reported.
Other enthusiasts reported similar issues as they left the store on Prince Street at around 10:30 a.m.
Anoele Perillo, who got in line at 7:00 a.m. outside the SoHo store to purchase her iPhone, stood outside around 10:30 a.m. smoking a cigarette while she waited for problems inside the store to be fixed.
"All of the systems are down," Perillo said, adding that she had finished two crossword puzzles while waiting for her iPhone activation to be complete. She said employees were shutting down some computers at the store to try to fix some of the problems with the iTunes network the store was experiencing.
Apple requires customers to activate the iPhone 3G in stores where they were purchased. This was not a requirement for the original iPhone, which was released a little more than a year ago.
Apple did not immediately return requests for comment Friday morning. An Apple Store employee at the SoHo store said no one there was qualified to comment on the problem, but said that to him, things "appeared to be going smoothly."
Some customers did leave the store with their iPhones successfully activated and reported no activation problems, they said.
As customers waited for their iPhones to be activated at the SoHo store, more continued arriving to purchase the phone. The line snaked for several blocks by 11:00 a.m. local time.
The activation process was also slow at Apple's flagship New York store on Fifth Avenue and at the Apple Store in downtown San Francisco, customers reported.
10:02 a.m. PT update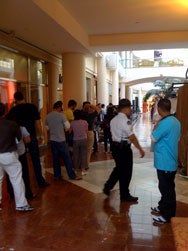 More from our man in Stonestown: news editor Jonathan Seff says he's moved 100 feet or so in the past 90 minutes, amid ongoing activation problems. That's the bad news. The good news is, that he's just 15 people away from reaching the inside of the mall. He dashed in to take the picture to the right, presumably without losing his place in line.
It may not just be activation problems that are causing the delays. It seems some business customers have shown up at the Apple Store, despite Apple's reminder earlier this week that customers with corporate accounts need to do their upgrading at AT&T stores. Jon also reports that store employees are periodically reminding people that they need to have an ID and credit card to purchase the iPhone—suggesting that some people are reaching the front of the line, only to realize they've forgotten to bring along those crucial items.
Activation nation
Hi everybody. Jason Snell here. I've got an iPhone 3G and have been sitting here for 50 minutes now repeatedly unplugging and replugging it, hoping to get it activated. But our friend "Error -4" is standing in my way, like a troll on a bridge demanding gold. I know I'm not alone. Sigh. More when we know more.

Does that dialog box look familiar to you too?
Jason here again – my iPhone 3G just snapped into menu mode and started updating, so I guess I'm up and running now. Elapsed time: about 100 minutes.
12:03 p.m. PT update
Let's grab the microphone back from Jason and update the status of Jonathan Seff, the Macworld editor last seen in line for the iPhone 3G at the Stonestown Galleria Apple Store.
First, a little background for context—I spent the morning posting these articles not from Macworld HQ in San Francisco but in my home across the Bay. I figured it would be an easy morning of writing and editing these iPhone reports—<Nelson voice>Ha, ha</Nelson voice>—before heading into the office.
Anyhow, I left my house a little bit after the 10:02 a.m. update posted above. I stopped to do some quick errands. And then I drove the 16 or so miles across up the 880 and across the Bay Bridge to get the office. I got to my desk shortly after 11 a.m.
And Jon still didn't have his phone.
He got his phone at around 11:30 a.m.—some three-and-a-half hours after the Apple Store opened its doors. The rest of his report came in flashes of wearily grunted sentence fragments, which I'll reprint below:
Phone is not activated yet
They tried in the store, but it wasn't working
Lots of confusion in the store
They told me the phone was $499 (Ed. Note: Jon was buying the $299 16GB iPhone, so… whoops.)
They had trouble getting my account to transfer
So, as we type this, Jon is backing up his old phone before he tries to activate the new one on his own. We'll let you know if he's had any success.
Activation time
Success! It appears that activation has broken through a dam, at least temporarily. Within minutes, several iPhone 3Gs at the Macworld and PC World offices were activated and began syncing with iTunes.
1:51 p.m. PT update: San Francisco snags
We dispatched Macworld editorial intern James Wickboldt to the Apple Store on Stockton Street in San Francisco to cover what we thought would be a typical Apple product launch. Yeah, not so much, huh? At any rate, here's his report.
Dale Larson, a mobile consultant, was among those who waited in line in June 2007 to be among the first to get an original iPhone. This time around, with the iPhone 3G's release, he was first—at least among the 350 or so people who were lined up Friday morning at Apple's flagship store on Stockton Street.
On a morning plagued with activation delays, however, being first turned out to be a mixed blessing.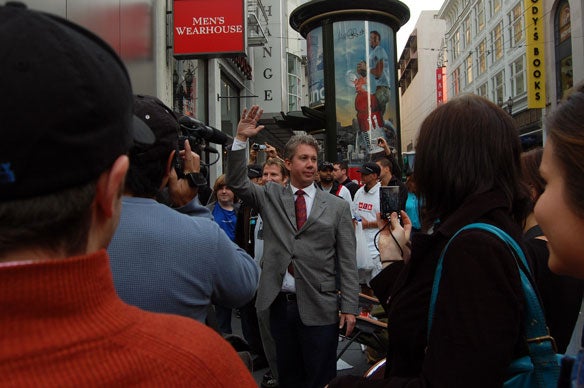 Apple let in two sets of 20 people when the store opened to buy and activate their new phones. But due to problems with the activation system, the next group of 20 weren't let into the Apple Store until 50 minutes later. The problem? A server went down, so store employees couldn't activate any of the 3G iPhones.
That delay, plus a glitch that prevented Larson from activating due to the fact that his phone was on a company account, left him without an iPhone 3G more than an hour after the store opened its doors.
"This is feeling a lot like the crappy service we have with all the other carriers," said Larson, who, nevertheless, credited the Apple Store staff for being helpful and friendly.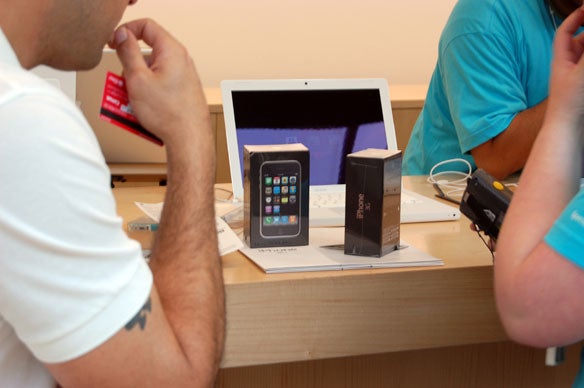 The problems suffered at the Apple Store were not apparent just a few blocks away at an AT&T store on 3rd and Market streets in San Francisco. The lines were shorter at the AT&T outlet—just 130 people were in line at the 8 a.m. opening—and the store didn't report any activation problems. Within an hour, AT&T store employees said they had activated between 50 to 60 phones.
Activation woes put a damper on what otherwise was an enthusiastic crowd outside the Apple Store. Tanya Keen arrived at 7 a.m. to purchase her first iPhone. "I've just waited a long time for a new phone, and it's about time," she said.
Peter Vandenbelt turned the trip to the Apple Store into a family outing—he had been in line since 5:45 a.m., holding a spot for his parents. "I like the 3G being able to download faster and the App Store," Vandenbelt said. "Mostly for the games."
2:16 p.m. PT update
More from Marc Elizabeth Montalbano and Marc Ferranti of IDG News Service (with contributions from fellow IDGNS staffers Agam Shah and Stephen Lawson):
Jason Pinsky, a chief technology officer of a clothing company in New York, attributed the activation problems he experienced at the SoHo Apple Store to the iTunes network.
While he could make phone calls with his new iPhone 3G—a feature he demonstrated outside the store—Pinsky couldn't use the iPod functionality because the iTunes part of the activation couldn't be completed in the store due to the network "bailing."
Pinsky had bought the original iPhone last year and said he didn't feel cheated by paying the premium for the original product. "I'm an early adopter," he said. "There's always a price to pay" for being first.
Problems with activation could affect the number of iPhone 3Gs Apple sells over the weekend if people decide to wait a few days for the problems to be resolved before making their purchases.
RBC Capital Markets projected that Apple may sell more than 1 million phones worldwide over the first weekend to meet pent-up demand, according to a report by analyst Mike Abramsky. The number could be four times more than the 270,000 iPhones that were sold at launch last year, he wrote.
But limited supplies could frustrate buyers as Apple shipped only 1.5 million iPhone 3Gs, Abramsky wrote. As supplies normalize, iPhone 3G is set for long-term success, and the company could ship up to 5.1 million iPhones in the quarter, according to the report.
More than half of current iPhone owners are likely to upgrade to iPhone 3G, according to a study from ChangeWave Research. Around 55 percent of current iPhone buyers said they are likely to upgrade to 3G iPhone, with more than half of them not planning to wait long, according to the research.
2:20 p.m. PT Update: Final thoughts
Let's close the books on the iPhone 3G's roll-out with a final word straight from Jonathan Seff, who has returned from the Stonestown Apple Store back to the bosom of the Macworld offices.
Four hours after getting in line, I finally walked out of the Apple Store with a 16GB white iPhone 3G, and a hunger that only Panda Express could satisfy. Because of server issues, store employees were unable to activate the phone before I left, so I went home and was able to activate it relatively easily.