The following article is reprinted from the PC Advisor Blog at PC Advisor.
As a former editor of Macworld UK, I'm something of a veteran of Apple product launches, and have been the very definition of an early adopter.
I was the third person in the UK to own an iPod, and first in line to buy the original iPhone in November 2007.
But today long queues and a hungry toddler put an end to all that, and I now find myself woefully behind the times.
I was woken at 6 a.m. by my two-year-old daughter Lexi, and it was action stations in my bid to own the new iPhone 3G on launch day. A sudden nappy change nearly took me off track, but I was on a bus by 7:45 a.m., and heading towards Islington's Angel shopping area where a Carphone Warehouse and O2 store stand opposite each other.
Surely I'd be in luck here…
OK, so I got there with just a few minutes to spare, but there had been just four people in the queue back in November.
But today either the hype for the 3G speeds or all the warnings of short supplies made London go mad, and there were at least 60 people outside the O2 shop and another 30 or so lined up outside Carphone Warehouse.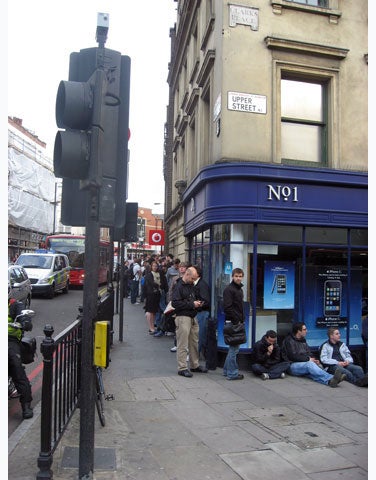 Islington is a bit of a luvvy village, full of journalists and broadcasters, and various media types wearing funny little glasses and cool retro jackets, so perhaps it was obvious that the town would get up early for the new iPhone. I should have got on the train and gone to Lewisham.
With reports that even the mighty London Apple Store (the largest of its kind in the world) could deal with just 15 people an hour, there was no way that Lexi was going to patiently wait in line for over four hours—she hadn't even eaten any breakfast!
So it was a weary, beaten Apple veteran who slowly turned round and took Lexi off to her nursery.
"Phone? Phone?," she implored.
"Sorry, Lexi. We'll have to wait…"
And with that, in true early adopter style, she burst into tears.
(I'll wait for the white 16GB iPhone 3G, and live with EDGE download speeds just as I have for the past eight months. Lexi consoled herself by watching Bjork's Human Behaviour video on her daddy's old iPhone.)