While I'm waiting for my iPhone 3G to arrive, I thought I'd point out an amusing thing I've noticed on the local network here at the offices of Macworld and PC World.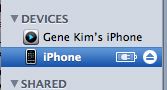 A lot of people are busily activating iPhone 3Gs and upgrading old iPhones to the new 2.0 software. And they're downloading apps on the app store, most particularly Apple's free iTunes Remote utility.
One of the things you need to do when you're setting up Remote is make it broadcast your phone's identity across your local network, so you can click on it in iTunes and enter in a four-digit code to pair your iTunes with your phone.
So as I sit here, raging against the -4 Error that prevents me from getting started with the iPhone 3G, I keep seeing these little iPhone names pop up in my iTunes, then disappear back into oblivion. Over and over.
It's as if every time one of those icons appears, an iPhone gets its wings.