Pangea Software is a veteran of the Mac game industry, so it's understandable that the company would repurpose some of its most popular games for the iPhone. One of those is Enigmo, a physics-based puzzle game that's made a nice transition to the new platform—nice enough to net an Apple Design Award at this year's World Wide Developer Conference.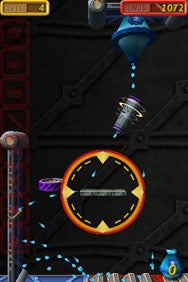 Enigmo is a 3-D puzzle game in which you have to manipulate various objects—slides, bumpers, cannons and such—to maneuver cascading streams of flowing liquid from one vessel to another. You can move or rotate the puzzle pieces to divert the stream of droplets so they can reach their target. The faster you manage this the better, as your points are determined by your speed (and a rapidly descending bonus clock in one corner of the screen).
Enigmo uses the iPhone's pinching multi-touch control to let you zoom in and out of action; you can control the orientation and direction of your puzzle pieces by clicking on them and rotating with your finger. In between each level, you can save, just like in the Mac OS X version of this game, which makes it simple to restore if you need to quit or take a break.
The game's 50 levels get progressively more difficult, with more obstacles, more puzzle pieces, and different kinds of fluids (water, oil, and lava) to keep track of. Some of the puzzle pieces can be a bit confusing to use and some of the levels can use a bit of play-balancing to make them less difficult, but all told it's a lot of fun.
There's no music to speak of, but Pangea's populated Enigmo with sound effects of fluid hitting objects and funneling through the various puzzle pieces, which creates a rhythm all its own. And while the background in the above screenshot may seem rather stark, the colorful puzzle pieces and animation make Enigmo a feast for the eyes, too.
Enigmo is compatible with any iPhone and iPod touch running the iPhone 2.0 software update.
[Peter Cohen is a Macworld senior editor and Game Room columnist.]