I'm writing Macworld's review of the iPhone 3G over the next couple of days. This time, I thought I'd try something different—sharing some of my notes as I'm using the product. That's what I'll be doing here. Stay tuned for the full review, most likely on Monday.
If you have questions you would like to ask me (or have me ask), feel free to add them to the comment thread attached to this story.
Friday morning: Getting started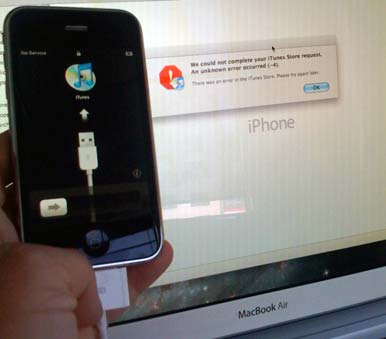 I obtained my iPhone 3G (Black, 16GB model) at about 10:05 a.m. Friday. After a quick walk back to the Macworld offices, I was in my chair by 10:15 and attempting to activate the phone. Unfortunately, all I kept getting was an "Unknown error (-4)" in iTunes.
That kept going until about noon, when all of a sudden the dam burst and a lot of people's phones—mine included—suddenly activated. I restored from a backup of my original iPhone and we were up and running.
Judging by appearances
Before we get going, let's take a look at the old and new iPhones side by side.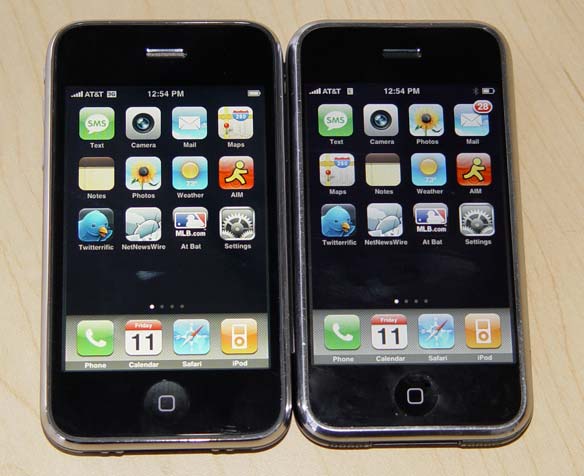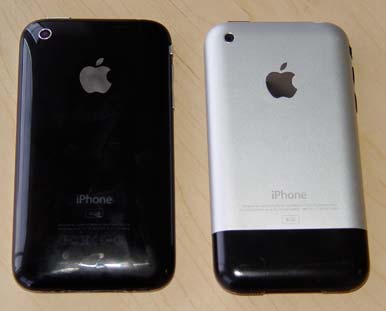 From the front, the original iPhone and the iPhone 3G are almost indistinguishable from one another. Only when you look at them side by side do you notice that the iPhone 3G is slightly wider, with a bit more black space between the sides of the screen and the chrome frame.
On the bottom, the black speaker and microphone grilles of old have been replaced by two oval cut-outs with recessed silver grilles. Between the grilles and the iPhone 3G's dock connector are two recessed Philips screws.
At the top, the most obvious change is the replacement of the accursed recessed headphone jack in the original iPhone with one that lies flat, so just about any headphones on the planet can attach without an adapter.
The phones' right sides are featureless, but the left sides of both include a volume rocker switch and a sliding switch to place the phone into silent/vibrate mode. These buttons, like the sleep button on the phone's top, are now silver metal instead of black plastic. Some reviewers have hailed these metal buttons as an advancement, but while they look pretty, I'm not convinced that they're better. The metal edges are much sharper than the old plastic ones, and they press uncomfortably into my fingers as I'm using them. I also found the iPhone 3G's vibrate switch to have much more resistance than the original's, which I don't like—although I do appreciate the fact that the old one perhaps slid into and out of vibrate mode a bit too easily on occasion.
Speed tests
Friday, 3:30 p.m. PT: I've done some very preliminary speed testing, the results of which are below. The short version is, 3G networks are really, really fast.
| | Load 1MB MP3 | Web page 1 | Web page 2 | Web page 3 |
| --- | --- | --- | --- | --- |
| iPhone 3G (3G) | 21 | 21 | 18 | 11 |
| iPhone (EDGE) | 87 | 65 | 51 | 22 |
| iPhone 3G (Wi-Fi) | 8 | 15 | 13 | 7 |
| iPhone (Wi-Fi) | 8 | 16 | 12 | 7 |
Best results in bold. Discontinued reference model in italics.
How rugged?
Friday, 5:15 p.m. PT: One of the questions with the original iPhone, that's come back around now with the iPhone 3G, is: how tough is it? If I drop it, kick it, what have you, will it survive?
Well, the thing's not made out of Adamantium. But as my colleagues at PC World found, it's tough. After PC World finished its brutal torture tests of the iPhone 3G (see the video to the right), editor Tim Moynihan came into my office to show the damaged iPhone off. Its screen had cracked after a high drop onto concrete—the fourth such drop. Tim reports that while the silver apple on the phone's back is scratchable, the actual shiny plastic is remarkably scratch-resistant. Tim suggested that, in true Bible-stopped-the-bullet fashion, we might want to keep our iPhone 3Gs in our shirt pockets to protect us against ricocheting gunfire. Now that's tough.
On the commute home…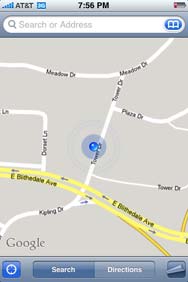 Saturday, 10 a.m. PT: I'm a public-transportation commuter and ride the bus every day, along with a sizeable walk to and from both my bus stops. The act of upgrading my iPhone and transferring data to a new iPhone left both my iPhones—my original model and the one I'm using for review—without any media on them. (I keep my media library at home, not at work.) So what was I to do?
I used the AOL Radio app to listen to streaming Internet radio over the 3G network, that's what. And it really worked. I spent more than ten minutes listening to a local radio station streamed over my phone, and it worked perfectly. (And yes, I know, investing in a transistor radio would be considerably cheaper than buying an iPhone to listen to a local radio station. But still.)
After I reached the bus stop, I entertained myself by spending some time checking Twitter and writing some tweets using The Iconfactory's Twitterrific.
After I boarded my bus, I launched the Maps application and began tracking myself using the iPhone 3G's location features, including GPS. At first, I was unimpressed—my location was not displayed very accurately and there seemed to be quite a delay. But I think that effect was because I was in a bus with a very limited angle to the sky, and in a downtown corridor full of tall building that blocked out even more of it. As a result, I think my iPhone had to resort to using cellular and Wi-Fi sources to guess my location, and with less accuracy than GPS might offer.
Once we got out into the wide-open spaces, the accuracy improved greatly and there was much less lag. On my walk home from the bus stop, the phone was extremely accurate, to the point of knowing which side of the street I was on and even deviating as I left the sidewalk and began to walk across the lawn to my front door.
I took a photo with the iPhone and according to Flickr, it's got latitude and longitude embedded in it, which is cool. But it doesn't seem to display on Flickr's map, which is annoying. Does Flickr not automatically read geotagged photos and place them in context on the map?
Answering your (and my) questions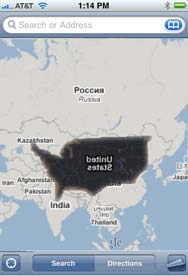 Saturday, 1 p.m.: Reader Kyle provides the answer to my above Flickr question: In your Flickr upload settings, you must turn on " Import EXIF location data." Done and dusted. Which leads to another problem: the photos taken by the iPhone are geotagged incorrectly. (That's a link to a photo I took in Mill Valley, California— the photo's EXIF data thinks it was taken in the Yellow Sea, China. Why? Because the photo's embedded EXIF data lists my latitude as East rather than West. Ooops. I'm sure this is an easy software fix, but in the meantime one of my favorite features of the new iPhone is not functional. (Update: As far as I can tell, the corruption is happening when I drag an image out of iPhoto and into the Finder. Why? Your guess is as good as mine. But it appears to be a problem not fundamentally a part of the iPhone itself, but rather some supporting apps.)
While we're at it I'll point out that Apple's "E-mail this Photo" feature also strips out all EXIF data, including geotagging, so you can't e-mail a photo and hope the geotag data remains intact. The good news is, I'm sure many clever photo-uploading apps will do the right thing. I tested AirMe (free from the iTunes store) on this photo and it embedded my proper location, apparently because the AirMe app doesn't use a photo's EXIF data, but rather the direct location coordinates at the moment you took the picture. (It also set the location correctly without me turning on the Import EXIF feature, and AirMe lets you choose the size of the photo that you upload, which Apple's e-mail function does not allow.) Expect to see more cool upload utilities like this in the near future.
Dominique James asks, "How does it feel in the hand specially when in use for calling or texting or web browsing? Is it heavier, heftier, more comfortable? Which one do you prefer, and why? Does the extra width on the sides make it more comfortable, hence faster, more accurate text/letter input, particularly when using 2 thumbs?"
It's pretty hard to compare the new iPhone 3G to the original iPhone, because one of them has been a frequent visitor to my hand for the past year, and I've only just met the other one. It's easy to spot the differences. It's harder to tell if they're better.
I can definitely feel my fingers sliding less smoothly on the back of the new phone. It's a different texture than the metallic back of the old model. I suppose I'll get used to it. The two phones feel almost identical in my hand. Your hand curves to hold the phone (unless you've got really small hands), and that curve is where the extra thickness is, so you don't notice it. Apple designed this new phone to feel just like the old one.
Sometimes I like to lay the phone flat on a table and type or scroll, and I was worried that the new phone would wobble too much to do that. Not true. It's slightly less stable at the edges, but it's still usable when it's laid flat.
Theoretically the extra width on the face of the phone should make it easier to get two hand on it, but to be honest I've never really gotten into the two-thumb typing thing. I'll do some, though, and see how it goes.
Apple answers some questions
Saturday, 2:50 p.m.: Got off the phone a while back with Apple's Bob Borchers, who was nice enough to take time out of his Saturday to answer some of my iPhone questions. The details about the "yellow screen" question are in this iPhone Central post, so check it out.
Borchers also gave me some details about two other issues going on, namely Bluetooth stuff and the great power-adapter crisis of 2008. Here's the deal.
Regarding Bluetooth, Borchers says that Apple is currently investigating reports of car kits that don't work right with the Bluetooth in the iPhone 3G or upgraded original iPhones. If you've got a car model that doesn't work with your iPhone anymore, post it in the comments to this story and I'll collect those up and pass them on to Apple.
Borchers confirmed that the iPhone's Bluetooth software has been modified to prevent you from listening to your voicemails via Bluetooth headset. What he told me was that Apple wasn't really satisfied with the user experience of having to go to Voicemail and then tap on a button to set the output source to the Bluetooth headset—and was especially worried that it might be dangerous while driving. However, don't despair—he also said that Apple is working on a replacement for this feature that will allow Bluetooth-headset wearers to listen to their voicemail again in the near future.
On to the power adapters. Here's the story: We learned a while back that iPhone 3G doesn't support charging "via FireWire." The thing is, there are lots of devices out there that don't actually have a FireWire port, but are technically FireWire chargers because they're sending power on the dock-connector pins that were used for power by the FireWire interface. There are a lot of reasons for this, chief among them the fact that the FireWire spec allows as much a 18 volts, while USB is a 5-volt connection. Since cars provide 12 volts of power, many if not most car-chargers used the FireWire method to send power.
However, in the interests of space and simplicity (i.e., not having to engineer for two separate power paths), Apple has dropped support for FireWire charging with the iPhone 3G. This means that many accessories won't charge an iPhone 3G. Borchers said that Apple gave accessory developers a strong hint that this was going to happen a while ago, but he said that some companies have continued to implement FireWire-based chargers despite the warning.
But there's some hope in sight: Borchers told me that at least a couple of third parties will be releasing converters that will pass through the dock connection, but convert the power to a USB standard. That adapter may make many of those charging devices come back to life.
Sound quality
Saturday, 5:25 p.m. PT: When Steve Jobs introduced the iPhone 3G at WWDC, he said something obscure about better sound quality and then quickly jumped on a helicopter and fled before anyone could ask him about it. Wait, no, that's not right. But he did do the first part. And in the intervening month we've been left to wonder what he means.
Well, the answer seems to be this: The speaker on the iPhone 3G is way better than the one on the iPhone 2G. In that it's louder, and therefore audible for speakerphone use. It also means that phone ringtones are much louder.
The phone's internal speaker, the one you press against your ear, doesn't seem quite as different. It's probably a little bit louder. And call quality seems somewhat better. Calls I made on the 3G network sounded better than those on the 2G network, according to the poor people who had to take calls from me on a Saturday morning in order to test this stuff out. They reported fewer dropouts and a less muffled sound overall.
Finally, there's one way in which the iPhone 3G improves the quality of all your other sound-producing devices: The frequencies used on the 3G network are, unlike those on the 2G network, not likely to generate loud humming and buzzing noises on every device in your life that has speakers attached to it. I was able to set the iPhone 3G right next to my clock radio, and never once heard that famous "GSM buzz." (Of course, if you live in an area that doesn't have 3G service, you'll be on the old GSM network, and the buzz will be back!)
Final update
Sunday, noon PT: Hi everybody. I've just filed my review and hopefully you'll be seeing it soon, probably tomorrow. So I'm going to wrap up this notebook, though I will still try to answer some questions in the forum. I'm also going to go step outside—it's a sunny day here in the Bay Area and I've been locked in my room for three and a half days straight. Time to get out and breathe in the fresh air.
The iPhone 3G review has now been published.