One of the first games that people saw on the iPhone was Sega's Super Monkey Ball, a conversion of an enormously popular game series for Nintendo's GameCube console. Previewed in March when Apple first disclosed its iPhone app plans and available at the launch of the App Store, it's no surprise that it's the store's biggest-selling application on launch day. Players who download the game are likely to find a fun game with a few flaws.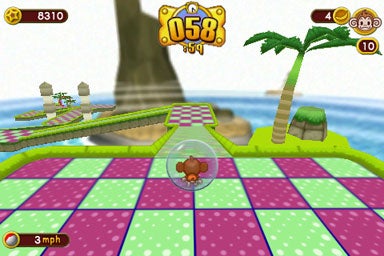 Super Monkey Ball is a 3-D racing game featuring monkeys inside transparent balls that race on suspended tracks. This makes getting around a bit of a challenge—go too fast in one direction and you can send your monkey sailing off the edge and into the abyss (accompanied by a sad wail on its way down).
You tip the iPhone left, right, up, and down to make your monkey move. The more you tilt, the steeper the angle, and the faster the monkey will roll. Along the way you can collect bananas—get enough and your monkey gets an extra life.
Make sure to hold your iPhone level for best results. Trying to delicately tilt the device can be a trick if you're getting jostled, which is bound to take the joy out of this game for some commuters.
There are five different worlds, each with multiple levels to master before you can unlock the others and continue on. Levels, particularly at later points in each world, can become frustratingly difficult and require a deft and delicate touch in order to win.
Plus, the racing isn't head-to-head—you're up against a timer.
Graphics and sound are superlative, setting an instant high mark for other A-list games on the iPhone to reach for.
You can pause mid-game by touching the clock, but if you need to exit, you'll find yourself restarting the game the next time you play—frustrating for people who don't have unlimited time to play games on their iPhone.
Super Monkey Ball is all about the racing, the core component of the game's GameCube predecessor. But the mini-games and multiplayer games that make the GameCube game fun when you're having a party are all absent—something for Sega to work on for the next installment, for sure.
Super Monkey Ball is compatible with any iPhone and iPod touch running the iPhone 2.0 software update.
[Peter Cohen is a Macworld senior editor and Game Room columnist.]