It's no surprise that Apple's Remote application headed up the App Store's list of Top Free Apps immediately after the iPhone application store launched. After installing Remote on an iPhone or iPod touch, the portable's touchscreen becomes the best remote control I've yet seen for controlling an Apple TV—or iTunes running on a computer—located on the same local network. (Your iPhone or iPod touch must be connected to that network via WiFi.)
When you first launch the Remote application on your iPhone or iPod touch, you need to complete a one-time pairing procedure in order to choose which iPhone or iPod touch controls which Apple TV or which copy of iTunes. In the Remote program, you tap on Add Library, which displays a four-digit passcode on the screen. Then you select your iPhone or iPod touch on the Apple TV's new Remotes screen (in Settings -> General), or in iTunes' Devices list, and enter the passcode. You have to perform this simple procedure only once for each device with which you want to pair; launching the Remote program in the future automatically connects the iPhone or iPod touch to your Apple TV or to iTunes as long as you're connected to the local WiFi network. (When you first connect to a source device—Apple TV or iTunes—there's sometimes a few-second delay while Remote retrieves the library contents.) You can even pair with multiple devices and then choose which you want to control when you launch Remote.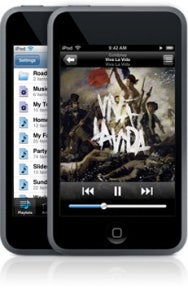 When controlling an Apple TV or iTunes using Remote, your iPhone or iPod touch's screen looks much like the mobile version of iTunes. At the bottom of the screen are Playlist, Artists, Albums, Search, and More buttons; the latter displays a screen with Audiobooks, Composers, Genres, Movies, Music Videos, Podcasts, Songs, and TV Shows—you actually get more options here than you do in mobile iTunes.
After choosing a category, you browse your iTunes or Apple TV library just as if you were browsing the media contents of your iPhone or iPod touch—by flicking your finger up or down and tapping to make a selection. You get an alphabetical index down the right-hand side of the screen, and you see album art and poster frames when viewing album and video listings, respectively. Choosing an album, track, podcast, or video begins playback; cover art is displayed on a Now Playing screen, just as if you were listening to audio on the iPod or iPod touch. You can even rate tracks when using Remote with iTunes.
If you're wondering how well Remote lets you "scrub" through media, the answer depends on what you're used to. The procedures are essentially the same as those on an iPhone or iPod touch: you tap-and-hold on the Back or Forward buttons to scan back or forward, respectively, within the current track, or you tap the Now Playing screen to manually position the playhead on the onscreen progress bar. Which means that in-track navigation using Remote is considerably better than using the Apple TV's physical remote control, but is sorely lacking in precision compared to the scrub feature of Click Wheel iPods or the mouse-cursor-positioned progress bar of iTunes on your computer.
A great feature found in Remote that's not available in iTunes on the iPhone or iPod touch is Search. Tap in a few letters and you instantly get a list of all content—artist names, tracks, movies, etc.—containing the search phrase. Tap on a track or video to play it, or tap on an artist or album to browse its contents. Remote even remembers your last search, so you don't lose your results if you switch to another screen.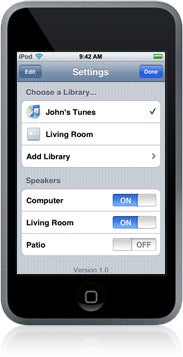 When controlling iTunes, the Remote program's Settings screen also lets you individually enable or disable remote AirTunes speakers—AirPort Express or Apple TV units connected to speakers or a stereo system. (Unfortunately, the Settings button is located only on the main screen, so you may need to "back out" a bit to access it.)
Remote works well with iTunes, but it's a godsend for Apple TV—especially if, like me, you've got a massive music collection. With the exception of Shuffle mode, I'd given up listening to music on my Apple TV because of the painfully-slow music navigation. With Remote, finding and playing any track in my library is easier than with any device or remote I've used. And I can do it from anywhere in or around my house.
The biggest shortcoming of Remote is that you can't use it to browse the iTunes Store, nor can you initiate playback of an iTunes-rented movie that hasn't yet been transferred to your Apple TV. (To put it more accurately, you can't use Remote to navigate the Apple TV's own interface; Remote effectively replaces that interface.) But for playing media already on your Apple TV or in iTunes, Remote is tough to beat.
Remote is compatible with any iPhone or iPod touch running the iPhone 2.0 software update.