At a Glance
Expert's Rating
Pros
Fast
Theme-based approach enables instant customization
Easy to use
Inexpensive
Supports a variety of page types
Cons
Blog commenting requires external hosting
Power users could find themes limiting
Our Verdict
Thanks to Realmac Software's RapidWeaver 4.0, you won't need a master of fine arts degree with a minor in computer programming to build a Web site that will do your content proud. RapidWeaver is an ideal tool for Internet extroverts and home-based businesses that want to hang a full-featured and professional-looking shingle out on the Web, without the expense and learning curve of Adobe's pro apps or the headache of hand-coding and CSS.
Does RapidWeaver live up to its name? Let's put it this way: Within an hour of installing the software, I posted a pretty darn handsome personal Web site, complete with a photo album and a podcast I had that needed a good home, plus file sharing, a video gallery, an RSS feed, a feedback form, and the beginnings of a blog.
RapidWeaver's interface is clean, colorful, and intuitive. Creating an HTML photo gallery or Flash slideshow couldn't be easier, thanks to the program's iPhoto integration. If you can pull together a holiday card in iPhoto, you'll have no problem dragging and dropping your way to a Web site in a single evening.
RapidWeaver really excels in its use of themes or templates. My biggest paranoia about template-based design programs is that eventually every Web site starts to look the same. (Just look at how those three-dollar pumpkin-carving kits homogenized Halloween jack-o-lanterns.) But thanks to RapidWeaver's open architecture, which encourages designers to create new themes, that's not much of an issue. At present, there are hundreds of third-party themes available; most are free or can be purchased for under $20. If you're frustrated by the creative constraints and rigid templates of iWeb, but you still want the speed and ease of a template-based program, RapidWeaver might be for you.
Program workflow is simple. Starting in Edit mode, just click the Add Page button, and paste or type your text into a blank white field with the aid of standard word processing formatting tools. Drag in your images, set text wrapping, and add links. Then, switch to Preview mode for the real fun, and instantly toggle among variations of your page within 40 provided themes. Many themes offer variations that allow you to further tailor your theme's styles, font families, backgrounds, and so forth-all while maintaining a consistent overall look and feel.
Of course, if you're so inclined, you can root around in the CSS code and customize your own themes. But the great thing about RapidWeaver is that you don't have to. After all, that's time you can devote to creating killer content and sleeping late.
RapidWeaver is also a capable blogging tool, with all the requisite auto-archiving and RSS capabilities. One element that might turn off some users, however, is that to enable commenting-the heart of social media-you have to register with, Haloscan, an external commenting service. Yes, it works. Yes, it's free. But when you have such an impressive Swiss Army knife of a program as RapidWeaver, it's frustrating to have to carry a separate corkscrew in your back pocket.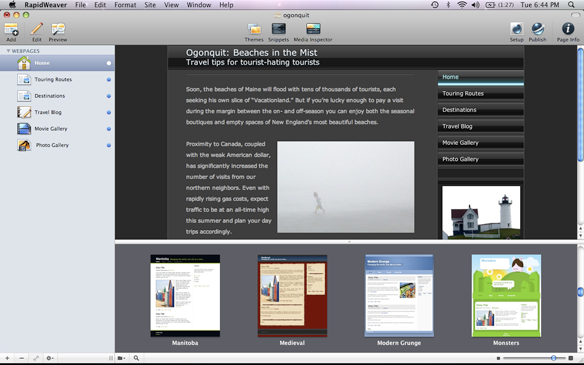 Publishing via both .Mac (soon to be renamed MobileMe) and FTP was straightforward and fairly speedy. I did notice that the Smart Publishing feature, which publishes only changed pages, occasionally missed a few. But all I had to do was select the Re-Publish All Files command and the issue was solved.
For Leopard compatibility, users of previous versions will need to upgrade to Version 4.0. Thankfully, the $30 upgrade (free to Version 3.6 users) also provides four new themes, Google Analytics support to better help you understand who is visiting your Web site, and the ability to add customized WebClips icons-so bookmarks to your site will look cool on your iPhone.
Macworld's buying advice
RapidWeaver 4.0 strikes just the right balance between customizability and ease of use. If you find iWeb limiting, Dreamweaver intimidating, and hand coding impossible, give RapidWeaver a try. You'll finally be able to focus on content without having to forego the bells and whistles that make today's Web sites so engaging.
[Tim Haddock is a writer and corporate communications professional living in Vermont.]