A lot of people have come to us with questions, and one of the most common is this: what do I do with my old iPhone when I buy a brand spanking new iPhone 3G?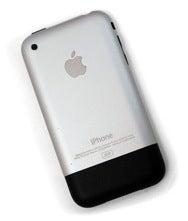 Well, how about a free iPod touch—how would you feel about that? Because as far as I can tell, that's what you get when you set up a new iPhone 3G to replace your existing original iPhone. After the Apple Store's Mac specialist did whatever mojo he needed to do to get me up and running, I walked out of the store with a fully functional iPhone 3G.
But what of my poor, lonely original iPhone? Waiting in line for six hours turned out to not be the best thing for its battery, so I had to plug it in to recharge it (using the brand new teeny-tiny iPhone power adapter). As it juiced up, I turned it on to see what was still working—would I get an activation required screen? Would any of my data be accessible?
Imagine my surprise then, when I found everything still working as expected. Sure, there's no cell phone signal, but Wi-Fi appears to work, and so do all my applications—including the ones I installed on the new 2.0 software yesterday. That left me with a pretty darn functional iPod touch—albeit one with a recessed headphone jack, and a non-functional EDGE antenna (which, I'll point out, thanks to the newly refined airplane mode, you can turn off without deactivating Wi-Fi).
Not too shabby, if I do say so myself. I had envisioned far worse, anyway—Apple bricking the old iPhones, or crippling them in some way. But a free iPod touch might be just the thing for a friend or family member. And remember—you can also turn it into a perfectly functional phone again, just by signing up for an AT&T plan.