For keeping up with news on-the-go from my iPhone, I've been browsing a number of different Web sites. All of that has changed with the launch of the App Store, however, because there are already more than a dozen free news-reading applications available for the iPhone and iPod touch.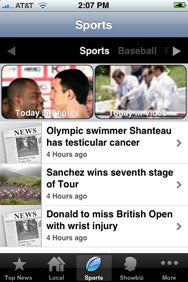 Of that baker's-dozen-plus assortment, one of the more useful selections is the Associated Press' free Mobile News Network. After a quick installation, a click on the brown fedora hat icon launches the program. Mobile News Network then displays a selection of top headlines, along with (in some cases) a photo. Along the bottom of the screen, buttons provide quick access to local, sports, and showbiz news. The Local feature can track local news for a number of locations—just enter a ZIP code, and the program will convert it into a town name. A button labeled More shows you additional categories and provides access to settings, a search engine, and saved articles.
Some categories, such as Local, Sports, and World, have a navigation bar to jump to sub-categories (such as Baseball or Football in Sports). There are also two large buttons labeled Today in Photos and Today in Video on some category pages; click those to view interesting photos and videos from the day's news.
To read an article, just tap its headline. While reading an article, you can also send it to a friend via SMS or e-mail, save it for later reading, or (most interestingly) send in a report to update the article complete with an image. While I was able to save articles, whenever I tried to access those saved articles, Mobile News would crash back to the home screen.
I've found that Mobile News Network works reasonably well, but there are some stability issues. In addition to the crash on reading a saved article (which a co-worker also experienced when testing the app), the program would sometimes crash back to the iPhone's home screen for no reason at all.
Despite these occasional setbacks, I've found Mobile News Network to be a good way to keep up on the day's news, especially for local news—including "local" locations that are far from my current home.
Update: One of the features of the App Store is a built-in software update tool that checks your installed applications to see which need updating. Late Friday night, this tool reported that the Mobile News Network application had been updated to version 1.1. After installing the updated version, I found that it fixed the crash I experienced when viewing a saved news article. As this was a major issue, I've revised my rating of the product upward by half-a-mouse. The update also added a couple of additional news categories.
Mobile News Network is compatible with any iPhone or iPod touch running the iPhone 2.0 software update.