The activation ordeal that many iPhone 3G buyers went through earlier Friday seemed to be over as the day ended on the East Coast of the U.S.
People buying the hotly anticipated handsets in New York and San Francisco on Friday morning had to wait longer than expected to get them working, after even worse problems in London caused Apple to close its main store there early. But at just after 5 p.m., customers leaving an Apple store in New York's Soho district said activation had gone quickly and smoothly, as did some customers on the West Coast.
Apple and its U.S. carrier partner, AT&T, had planned to complete all activations inside their stores. To get their phones working, customers have to set up a two-year contract with AT&T and synchronize the new phone with Apple's iTunes site. But because of sluggish performance on the site, the companies split up those steps and told owners of the new phones to take them home and complete the iTunes step themselves, according to AT&T spokesman Mark Siegel.
"The iTunes software appeared to have been so overwhelmed by demand today that customers were not able to go through that final stage and sync their iPhones," Siegel said. "Apple has worked very hard to remedy that." Apple did not respond to requests for comment.
It was a big day for iTunes, which was where owners of first-generation iPhones were also trying to download the new iPhone 2.0 firmware. There were wide reports of error messages and failed downloads of the firmware, which is more than 200MB in size and will provide access to a large number of third-party applications, as well as some new iPhone features.
At the Apple store in downtown San Francisco, the first group of customers allowed into the store at 8 a.m. weren't able to get their phones activated for about 30 minutes, apparently due to technical problems. Workers at the store were trying to enter information for credit checks and account setup in handheld point-of-sale devices, but told customers they were having trouble uploading the data. Problems with devices not reading credit cards added to the delays: For one patient customer, an employee resorted to using a manual device with carbon paper to take an imprint of his card.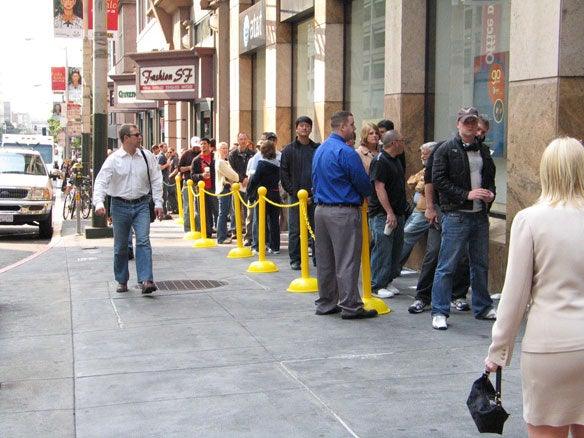 The first customer in line couldn't get his iPhone activated until well into the afternoon after having waited outside the store since 10 p.m. Wednesday. The customer, Dale Larson, said Apple let him take the phone home without any activation. He later reported more problems getting the phone going.
"I ended up calling the manager of the store who'd been taking care of me, and he worked over the last hour with AT&T to get my 3G fully activated," Larson said via e-mail shortly before 3 p.m.
But after 8:30 a.m., most activations seemed to go relatively smoothly, and several customers who got into the store later reported an easy experience, having synchronized their phones with iTunes either at home or in the store.
The wait didn't faze some customers in San Francisco. About an hour after the Apple store opened, Dr. Russell Vandenbelt and his wife and son—on vacation from Seattle—were still far from the door, but eager to buy and activate five new iPhones. The family of six already has six of the first-generation devices, as well as 16 Macs, Vandenbelt said. The physician thinks the new device is worth the cost for the faster network speed and GPS (Global Positioning System), and he is also looking forward to getting iPhone versions of medical information applications.
"There's the X factor, too," Vandenbelt said. "You don't completely appreciate what's on one of their new products until you get it."