Welcome, my friends, to the shadow realm. If you aren't following our big cheese Jason Snell's iPhone 3G stream of consciousness, you might have missed out on this tale of the bizarre. One of the iPhone's new features is the ability to geotag photos—that is, imbue them with geographical data about where a picture was taken. This metadata is stored in the photo file, and you can use it to locate the photo on a map (Leopard's Preview application allows you to view this info if you hit command-i then click on the exclamation point bubble tag).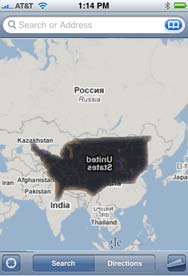 Unfortunately, it seems there's a wee bug in the iPhone 2.0's geotagging implementation. For some reason, it flips the longitude data from East to West. For example, I snapped this picture of my neighborhood cafe which you'd never guess from the cozy interior was located in a desert in northern Kyrgyzstan . Well, at least I'm in better shape than Jason—according to his geotagged photos, he's adrift somewhere in the Yellow Sea.
Incidentally, on a related note (also passed along by Mr. Snell), if you want your photos' locations to show up when you upload the pictures to Flickr, make sure to enable "Import EXIF data" in your Flickr account under Privacy & Permissions. And if you're trying to upload to Flickr by sending the picture via the iPhone's email, don't bother—for some annoying reason it strips out the photo's location metadata. You can, however, use a third-party application such as AirMe (iTunes link) to upload the photos, with the metadata intact.
Now, if you'll pardon me, I've got to brush up on my Kyrgyz if I'm going to find a way out of here.
Update: We think we've figured it out. When you drag an image out of iPhoto and into the Finder, apparently something can happen that corrupts the cardinal directions in both latitude and longitude. Images not dragged out of iPhoto appear in their proper countries, not Kyrgyzstan. -J.A.S.