Connected Flow's Exposure puts the world of Flickr, Yahoo's popular photo-sharing service, at your fingertips with an intuitive interface that makes it easy to not just show off your own photos, but also to explore the latest snapshots from your friends and the larger Flickr community.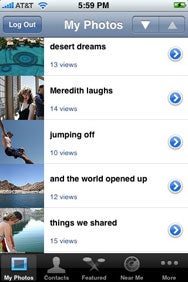 Keep in mind that Exposure is a Flickr browser; it doesn't upload photos from your iPhone. (However, it's easy enough to e-mail photos to your Flickr account directly from the iPhone's built-in Photos app.) When you first launch the program, you're given a simple interface for logging into your Flickr account. Once you've logged in, the main page displays your personal photos as a list; each entry shows a small thumbnail, the photo's title, and the number of views it has received. Buttons along the bottom of the screen let you explore photos from your contacts or from the larger Flickr community. You can also search your photos by tags or photosets, or search all of Flickr. However, there's no easy way to search just within a Flickr group or to see what groups a photo belongs to.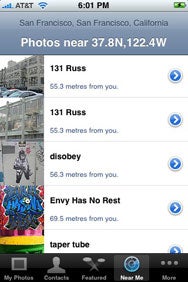 You can navigate images in one of two ways. Clicking on the image thumbnail will display photos fullscreen. You can then use small back and forward arrows to switch images (tilting the screen changes the image's orientation). You can also access a more detailed view by clicking on the blue arrow next to the photo's thumbnail. This displays the title, caption, tags, as well as options for viewing and leaving comments. From this view, a button at the top of the screen gives you additional options to post the image to Twitter (you must have the Twitteriffic app installed on your iPhone for this to work), e-mail a link to the photo on Flickr, open the photo's Flickr page in Safari, or to add a photo to your list of favorites (when viewing others' photos).
One particularly intriguing option is the Near Me feature. Tap this button and Exposure will use your current location to find images tagged with nearby longitude and latitude coordinates. On my first-generation iPhone, this feature immediately brought up an image of the graffiti-strewn garage door across the street and many more pictures from my neighborhood.
The program's intuitive interface makes it easy to navigate your online collections without too many clicks. However, I wish you could see whether a photo has comments without having to switch to the detail view. I was also frustrated by the fact that long titles (longer than 24 characters or so) get cut off without any way of viewing them other than switching to Safari. Some users may be annoyed by the presence of small ads, which appear at the top of many pages. Although I didn't find the ads too disruptive (there's never more than one per screen), Connected Flow also offers an ad-free version, Exposure Premium, for $10 if you'd prefer to eliminate them completely.
Exposure is compatible with any iPhone or iPod touch running the iPhone 2.0 software update.
[Kelly Turner is senior features editor for Macworld.]