One of Ambrosia Software's first apps for the iPhone is Mondo Solitaire, a solitaire card game that's robust and varied. I can't help but feel that it might benefit from a bit more polish and refinement, though.
Mondo Solitaire sports more than 100 solitaire card games—everything from old standbys like Klondike and Canfield to some odd ones I've not tried before. If you're unfamiliar with certain games, Mondo Solitaire includes a basic help screen that will tell you what to do—and if you try to place the wrong card on the wrong pile, you'll hear a gently chiding "nuh-uh" sound telling you that move is no good.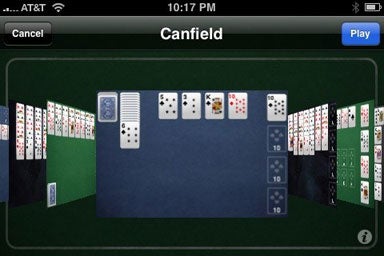 You can select a solitaire game using a Cover Flow-style interface or using a text-based list that can be sorted by various criteria. You can also click on the Surprise button to have Mondo Solitaire make the choice for you.
The cards are easy to read, and Ambrosia lets you customize the card backs and background themes. Holding your finger down for a moment will magnify the cards if you need to see them better, and most operations can be managed using a single touch—touch the card and it'll go where it's supposed to.
Moving piles is a bit trickier—first you have to click on the pile (or portion) you want to move, which surrounds that stack with a paper clip—then you need to drag-and-drop the pile to its new location. It requires a bit of precision to manage, and I'd often get frustrated when piles didn't go where I expected them to.
The graphics and animation are quite lovely, but they're also slow and stuttering. I tried adjusting the animation speed but that didn't improve the overall smoothness of the animation, which seemed a bit rough and unfinished. Hopefully Ambrosia can tweak this in an update.
Mondo Solitaire is compatible with any iPhone or iPod touch running the iPhone 2.0 software update.
[Peter Cohen is a Macworld senior editor and Game Room columnist.]