If your friends are anything like mine, then it's a familiar scenario: you've gone out to eat with a group, and the check comes. Four separate people all have to calculate what they think everybody owes for tip, sometimes disagreeing wildly.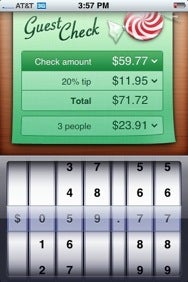 You could use the iPhone (or, for that matter, any other phone's) built-in calculator to solve that problem, or you could turn to a specialized tip-calculating app, like tap tap tap's Tipulator. Tipulator lets you enter the amount of your bill and automatically tells you how much you'll be paying with tip.
Tapping the tip percentage will let you select from No Tip to 30 percent, along with an option to round up or down to the nearest dollar. If you're in a group of several people, you can tap Split Check to go to a screen where you can select the number of people in your party—Tipulator will then split the tab evenly.
Tipulator's user interface is pleasant and friendly, and while it works well enough, for such a simple process, it sometimes seems like overkill—especially the choice to use the dial input method for entering data. For example, a standard numeric keypad would be faster and more intuitive for entering the amount of your meal.
The number of different choices for tip percentages seems like overkill too—allowing you to select 10 percent, 15 percent, or 20 percent from the main screen would be faster than having to switch to a second screen. The same goes for selecting the number of people in your party. The other problem is Tipulator only allows you to split the cost of the entire meal (tip included) evenly, which may not satisfy all parties involved, especialy if one person has ordered something pricey.
At $1, Tipulator's not exactly an expensive outlay, and it may be worth it to avoid disputes among friends. But it's certainly cheaper—and potentially faster—to just use the iPhone's Calculator application.