Among information geeks (like me), one of the most-anticipated iPhone applications has been NetNewsWire, the iPhone version of NewsGator's Eddy-award-winning NetNewsWire for Mac. The Mac version is my favorite software for following news feeds—live-updated summaries of articles on Web sites—and I've been waiting for a good newsreader for my iPhone.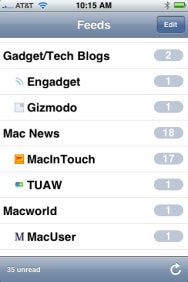 Once you've configured your feeds (more on that in a bit), launching NetNewsWire on the iPhone displays a list of those feeds, along with the number of unread articles in each feed. (The current version of NetNewsWire for iPhone, 1.0.7, shows only feeds with unread articles; earlier versions showed all feeds. A setting to choose your preferred approach would be a nice addition.) In the screenshot here, you can see that some feeds are grouped under headings; if you have feeds organized in folders on the Mac version of NetNewsWire, as I do, such groupings are synced to the iPhone version (more on that in a bit, as well).
If you're online—via either WiFi or a mobile network—the program will connect to the Internet to check for new articles and to sync the status (read/unread) of articles. You can see the total number of unread articles at the bottom-left of the screen, as well as on the app's icon on your iPhone's Home screen. This check/sync process happens each time you launch NetNewsWire, as long as the previous check/sync occurred more than five minutes before.
Tap on a feed to view a list of articles in that feed, sorted by date with newest articles at the top (see below); unread articles are displayed with blue type, read articles with gray. (You can't invert the sorting so older articles appear first, a feature at least one Macworld editor wanted.) Tap an article title to view the article summary and any information about the article provided by the feed. (One limitation here: if an article summary includes an image, NetNewsWire doesn't scale the image down to fit the screen; you must manually scroll around to see all of the image.) You can quickly move to the next unread article summary by tapping the Next Unread button. Alternatively, if you want to view the full article, tap on its title on the summary screen. Unlike many other iPhone apps, NetNewsWire doesn't use Safari to view a Web page; it provides its own Web-browser screen, so you don't have to switch back and forth between NetNewsWire and Safari. However, while this screen lets you double-tap or "unpinch" to zoom in on a Web page, it doesn't support rotation, so you can't view pages in landscape mode.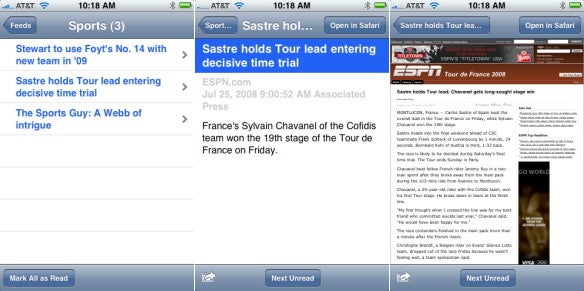 In sync
Any newsreader should let you quickly skim your subscribed feeds. But like NetNewsWire for the Mac, what sets NetNewsWire for iPhone apart from other newsreaders is that it hooks into a NewsGator account for managing and syncing your RSS feeds across multiple devices. So, for example, if you add a news feed to NetNewsWire on your Mac, the next time you sync with the NewsGator server, that feed is automatically added to NetNewsWire on your other Macs, to NetNewsWire on your iPhone, and to NewsGator's multiple Web-based readers—anywhere you read your news, you'll be able to browse that feed.
(In fact, there's no way to add a feed directly to the iPhone version of NetNewsWire; you must add it via the Web site or the Mac version. On the other hand, the latest update of NetNewsWire for iPhone does let you unsubscribe from a feed, or just remove it from your iPhone view, directly from the phone. To do so, tap on the Edit button while viewing the main feed list, then tap on the minus [-] button next to the feed you want to remove, and then tap on the Delete button that appears. You then choose either Don't Show In iPhone or Unsubscribe Everywhere.)
Similarly, whenever you read a particular article—or manually mark it as read—the article is marked as read on every other device. You can also use your account settings on the NewsGator Web site to choose which feeds appear on which of your devices. So, for example, you can have all your feeds appear in NetNewsWire on your Mac, but set only the most-important feeds to show up in the iPhone version.
Syncing also allows for other useful features. For example, when viewing an article summary or a full article in NetNewsWire for iPhone, you can add it to your Clippings, a nifty option that lets you easily mark an article for later reading. (You do this using the Send button; this button also lets you email the article's URL.) Clippings are automatically synced from your phone to your other NewsGator-synced devices. Unfortunately, unlike the desktop version of NetNewsWire, which provides a list of any articles you've "clipped," the current iPhone version of NetNewsWire doesn't let you view your Clippings. According to NewsGator, that feature is slated for a future update.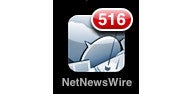 Several Macworld editors using NetNewsWire for iPhone have commented that the process of checking for new articles and syncing read status takes a good amount of time when you launch the app. I did some testing, and the iPhone version of NetNewsWire actually doesn't take much longer to perform this task than the Mac version (over WiFi or 3G, that is; EDGE connections obviously take much longer). The difference is that you can leave the Mac version running so it can perform checks/syncs in the background. Since iPhone apps quit whenever you switch to a different app, NetNewsWire has to wait until you launch it to perform a check/sync, so it feels slower. This is one of the limitations, for third-party developers, of the iPhone OS: programs can't access the Internet—or even run—in the background. That said, the current version of NetNewsWire for iPhone feels considerably faster than the initial version thanks to a number of tweaks NewsGator has implemented.
NetNewsWire vs. NewsGator Mobile
Considered on its own, NetNewsWire for iPhone is a solid app, even if it's not as stellar as the Mac version. However, unlike many iPhone apps, NetNewsWire for iPhone has some stiff competition: the company's own optimized-for-iPhone Web-based newsreader, NewsGator Mobile, which falls short of the native app in some areas but also offers several advantages.
On the positive side, although the main feed listing of NetNewsWire for iPhone looks very much like that of NewsGator's mobile-Web version, the native iPhone app can download feed contents and article summaries and store them on the phone, so you can view those listings and summaries, and add Clippings for articles, even when you're offline; for example, when your iPhone is in Airplane Mode on a flight. The iPhone version is also faster at displaying feed listings and article summaries since it's already downloaded that information.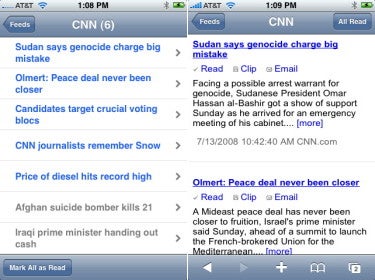 On the other hand, NewsGator's Web-based interface for the iPhone offers more options when browsing individual feeds. For example, as you can see in the image to the right, the Web version displays an excerpt of each article summary as well as links to mark the article as read, to add a clipping for the article, or to email the article URL. The iPhone app shows only article titles; you have to view each article's summary view to access these options. Each approach has advantages; I'd prefer the option to choose my preferred view—title-only or detailed—for each feed.
Missing from both the Web and iPhone-app versions is a way to view all unread articles in a single list. In the Mac version of NetNewsWire and the standard (non-iPhone/mobile) NewsGator Web interface, a Latest News item lists all unread articles. Fortunately, as with a Clippings listing, the iPhone app is scheduled to gain this feature in the not-too-distant future.
Tap one, two, three
One other minor complaint about NetNewsWire for iPhone is that some actions require more taps than they could. One example is the procedure for removing a feed, described above. Another is clippings: if you want to add a clipping for an article, you have to tap on the article title to view the article summary, then tap on the "send" button, and then tap on the Add To Clippings button that appears. And as useful as clipping are, you can't remove a clipping for an article; in fact, there's no way to see the clipping status of each article. Given how often I use the clipping feature, I found myself wishing for a way to toggle clipping status on and off with a single tap, along with a visible "clip" status indicator next to article titles.
Room to grow
My impressions of NetNewsWire 1.0, released with the debut of the iPhone App Store, were mixed, but NewsGator has addressed many of my initial complaints in the two weeks since. Still, while version 1.0.7 is the best of the currently-available newsreaders for iPhone, is easy to use, takes advantage of the excellent NewsGator syncing system, and is free, it's got room to grow. I've at times found myself falling back to the NewsGator Mobile Web app thanks to several useful features missing from the native iPhone version.
The good news is that NetNewsWire for iPhone has good genes; if NewsGator Mobile and NetNewsWire for Mac are any indication, we should see many more improvements to the iPhone version as development proceeds. Indeed, NewsGator told Macworld that in addition to the Clippings-list and Latest News features noted above, future updates to NetNewsWire will include Mark As Unread and Send To Twitterrific commands when viewing article summaries; the capability to place clippings in clipping sub-folders that sync with your other devices; and more. I, for one, am looking forward to future updates.