Anyone who's ever tired to entertain a small child knows that it's often hard to get them to sit in one place for any susbstantial period of time. While the first iPhone had its fair share of distraction value, that ante has been upped by LateNiteSoft's $6 Sketches, which did a pretty successful job of amusing a three-year-old and 18-month-old for a solid 15 minutes—no mean feat.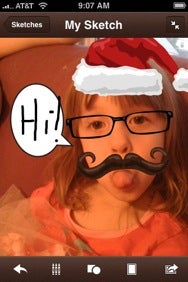 Sketches is one-part Etch-a-Sketch, one part Comic Life. As its name suggests, the program lets you create your own drawing masterpieces on your iPhone—or, alternatively, while away your hours by drawing handlebar mustaches on your friends' faces.
When you first launch Sketches, it displays its main screen, a gallery of existing drawings fashioned to look like a corkboard. The first several images are a brief tutorial that explain how to use Sketches's various features; tapping any of them will zoom them into a fullscreen view. While the app is pretty straightforward, the tutorial did clue me into the fact that you have to use the two-finger pinch method to place (and resize) clip art. Once you know that's how it works, it's simple enough to use.
After you're done with the tutorial, you can create your own drawing by tapping the Plus (+) button on the main screen; you'll be given a blank canvas on which you can express your artistic genius. You can draw lines of various colors and thicknesses by tapping the Crayon tool and just drawing with your finger on the screen. You can also drop in shapes and clip art by tapping the Shapes button and selecting from several categories. As mentioned above, you place clip art and resize it by putting two fingers on the screen and using the pinch motion. While orienting some of the art felt awkward at first, once I remembered that you can rotate the phone as well as your hand, that made the process vastly easier.
But where Sketches really shines is in its integration with the rest of the iPhone. For example, you can import a photo from your Photo Album to use as a background, or even take a picture from inside Sketches. From there it's a simple matter to add clip art and even word bubbles, though writing in them is inexact and sloppy since there's no type tool—you'll have to draw every letter with your finger. Sketches suggests using the Zoom mode (which you can engage by tapping the double arrows in the top right) to help. Unfortunately, the Zoom mode is limited to just one level of magnification: either you're viewing at normal size, or you're zoomed in.
As much fun as it is, Sketches has a practical side as well. For example, by tapping the background button, you can choose to insert a map of your current location, then draw in directions. Unfortunately, because the maps are only at one zoom level, your directions may be limited.
Sketches is a semi-non-destructive editor; it keeps the background on a different layer from the drawings and clip art you've inserted. You can tap the Undo button to erase your most recent action; the more times you tap it, the more actions you'll undo. To wipe everything except the background, you could tap and hold the Undo button, but you'll accomplish the same thing in a far more fun fashion by just shaking the iPhone.
Tapping the Sketches button at the top left corner will save your drawing back to the corkboard (though Sketches will also save the current drawing if you leave the application, automatically reloading it when you return). You can export the drawings to your iPhone's Photo Album, or post them to Twitter, without even having to leave the application.
While it may not be the most practical application on the iPhone, Sketches is great fun for the young and young-at-heart alike and is a great way of showing off the iPhone's functionality.