Square Box Systems on Monday announced the release of CatDV 7.0, a significant update to their video logging and media asset management software for Mac OS X. It's available in Standard and Professional editions for £45 and £170 respectively (US$89.78 and $339.17); upgrades cost £49 (US$97.76).
CatDV works with all media files, but it's especially designed to help you keep track of video files. It features logging tools, import and export of Edit Decision Lists (EDLs) and batch logs, and integration with Final Cut, Adobe Premiere Pro and Avid-based video editing systems.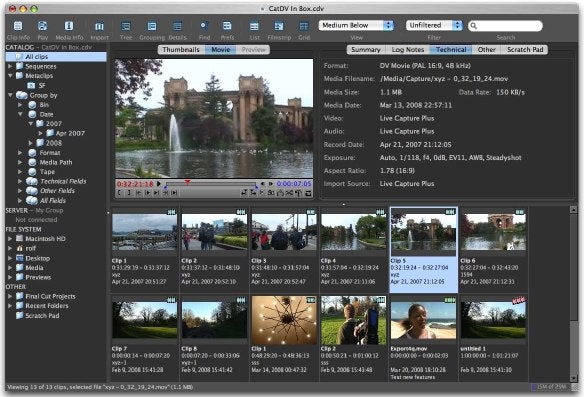 The new release of CatDV, 7.0, adds new features include improved sequence editing, with a static playhead, support for multi-track editing and a new Match Frame command; a new "pro-look color scheme and updated movie controller that shows timecode event markers and lets you drag In and Out points; auto-handling of Targa and DPX imge sequences; support for QuickTime high-resolution audio exporters and constant pitch playback; and improved support for locating media files and finding duplicates.
CatDV can be used alone or as part of a network-based video editing and media cataloging workflow. If you're using CatDV Enterprise Server, the 7.0 release offers additional new features, including the ability to share settings with other team members; production blog support and an updated tape library management screen with optional bar code scanner.
System requirements call for Mac OS X 10.3 or later, 1GB RAM, QuickTime 70 or later and Java 1.4.2 or later. (CatDV is a Universal binary.)