At a Glance
Expert's Rating
Our Verdict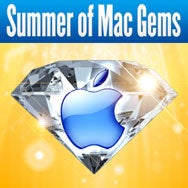 Editor's note: The following review is part of Macworld's Summer of Mac Gems series. Each business day until the middle of August 2008, the Macworld staff will use the Mac Gems blog to briefly cover a favorite free or low-cost program. Visit the Mac Gems homepage for a list of past Mac Gems.
iTunes' podcast support is great. The program always remembers where you pause podcast installments, and iPhone users can sync podcasts on a computer other than the one they use for music and video syncing.
So what if you've got a file you wish were in a podcast—say, an interview downloaded from the Web—but isn't? Red Sweater Software's TypeCast solves this problem by creating a phony podcast in iTunes and filling it with whatever files you drag into its window.
It's a bare-bones tool that fills an esoteric, but sometimes extremely useful, niche.