Playfirst on Monday announced the release of The Great Chocolate Chase, the first spin-off to be spawned by their popular Chocolatier casual game for the Mac and Windows. It costs $19.95, and a demo version is available for download.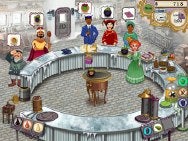 The Great Chocolate Chase is a new assembly management game featuring characters and situations first seen in Chocolatier. In a charming period setting, you follow the saga of Evangeline Baumeister, scion of the Baumeister clan, as she continues to rebuild her family's chocolate-making empire.
Instead of an economic simulation, as was the case in Chocolatier and its sequel, The Great Chocolate Chase has you making and serving chocolates to customers in locations from Peru to South Georgia Island, Nepal to Indonesia, Russia and Libya.
System requirements call for Mac OS X 10.4 or later, G4/800MHz or faster, 256MB RAM, 32MB hard disk space.