It's easy to make too much out of a mishap-filled product launch like Friday's iPhone 3G rollout. Foul-ups and blunders accompany most any product launch, particularly when it's as ambitious as the worldwide release of the iPhone and its accompanying 2.0 software update.
People might forget now, after a year's worth of iPhone adulation, but the 2007 launch was not without its problems. My colleague Jim Dalrymple had about as disastrous an experience as one could imagine activating his original iPhone, but I'm pretty sure the only way we'll ever get him to stop using the phone is to pry it out of his cold, stiff hands. So as tempting as it may be for some to seize on Friday's mishaps as an entrée into denouncing all things iPhone- and Apple-related, it would be a tremendously short-sighted mistake.
Then again, it would be an even bigger mistake to pretend as if nothing happened. Unfortunately, as of this writing, that appears to be exactly what Apple plans on doing.
How else to explain the stony silence emanating out of Cupertino since widespread glitches marred iPhone releases from London to San Francisco. Apple's response to these reports was to have no response—it didn't comment for IDG News Service, Time, The New York Times, and who knows how many other publications. Although, according to the Times story:
Apple did not comment publicly on the problems, but privately executives acknowledged the missteps and said the combination of the software upgrades and new iPhone 3G owners trying to complete their activation swamped the company's servers.
So it would seem that Apple's decision to essentially squeeze four major product launches—the iPhone 3G, the iPhone 2.0 software update, the App Store, and MobileMe—into a 36-hour window was… well, let's be polite and call it "misguided." Why not launch MobileMe a week in advance, minimizing the hiccups that marked that roll-out? Why not release the 2.0 software update a few days after the 3G launch? That would give the first wave of iPhone 3G customers a chance to activate before the entire original iPhone user base downloaded the update and began re-activating their own phones. There's no reason to lump all those releases together, save for trying to create some sort of memorable launch day.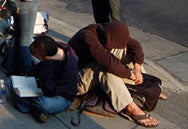 Well, Friday was certainly memorable—I'll give Apple that.
We'll just have to speculate on what Apple's rationale was for launching everything at once, because the company isn't making any public pronouncements other than to crow about the number of iPhones sold via press release. (It's the company's favorite way to communicate with the outside world—after all, no one can ask a press release potentially uncomfortable questions.)
Apple should certainly be proud of the fact that it sold a million iPhone 3Gs in the device's first weekend—but how about a word or two of appreciation for the patience of the folks who endured a tremendous amount of inconvenience to enable Apple to hit that mark? And while we're at it, maybe Apple could also reassure its customers that it will look into what went wrong on Friday so that it will minimize the chances of repeating those mistakes at future product launches.
That last point can't be emphasized enough. Because at the end of the day, the selling point of the iPhone—indeed, the selling point for most Apple products—is that it makes your life easier. Having to endure a series of Apple-induced hassles just to get your hands on one seems to run counter to that philosophy, not to mention the very reason for Apple's success over the years.
Like I said at the outset, it would be a mistake to overreact to Friday's miscues. And not many large-scale product launches go off without a hitch. The critical thing is how you respond to those inevitable snags—with stone-faced silence bordering on arrogance (which seems to be Apple's current approach) or by being as upfront as possible about the problems.
The employees on the ground at various Apple Stores opted for that latter tack, at least. My colleague, Jonathan Seff, stood in line for three and a half hours in San Francisco, and the only thing that prevented the day from descending into abject misery was the fact that Apple Store employees would come and give periodic updates about the upgrade process, answering customers' questions and keeping them in the loop. Likewise, in our report from a different Apple Store in San Francisco, Dale Larson—the gent who waited hours for a working iPhone despite being first in line—credited the Apple Store staff for being helpful and friendly even in the face of the activation meltdowns going on around them.
Here's hoping those helpful, accountable Apple Store employees can offer some pointers to executives a little higher up Apple's food chain.