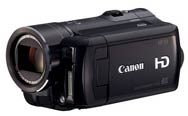 As Macworld Lab has detailed in our reports on camcorder testing, we've encountered compatibility problems with a number of tapeless camcorders. Canon's Vixia HF10, a high-definition camcorder that uses a 16GB internal flash drive and an SD card for storage, is one of the few tapeless camcorder that we've found that works seamlessly with the Mac. In our testing, the HF10 shot impressive, brilliant video, up to par with its similar MiniDV counterpart, Canon's Vixia HV30 ( ). The HF10 has a few minor flaws, but it's a fine choice for Mac users eager to leave MiniDV tape behind.
The HF10 is sleek and sexy, but it feels a bit clumsy to hold. The camcorder is shaped like a cannon barrel, and you need to use your middle finger to control the zoom tab, making it difficult to maintain a firm, steady grip on the camcorder. You access the HF10's menu using the four-directional joystick, which is located next to the LCD screen; the flaw to this design is that it's conducive to camera shake. The HF10's control panel is extremely intuitive to use; you should be able to figure out how to use this camcorder minutes after powering it up, without reading the user manual.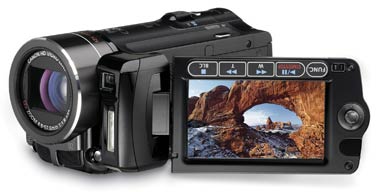 We've seen camcorder manufacturers sacrifice basic features for the sake of making smaller and lighter devices, yet the HF10 has an impressive feature set. Weighing less than a pound, the HF10 is definitely small and light, and it doesn't leave out basic features. Canon includes microphone and headphone jacks, an accessory shoe, and a lamp for shooting in dark environments-niceties to have in a device this small.
Of course, features and ease of use don't matter if you can't get your footage off the camcorder to edit and share with your loved ones. Fortunately, the HF10 uses a MPEG-4 (H.264)-based AVCHD (Advanced Video Codec High Definition) codec, and the camcorder works seamlessly with iMovie '08 ( ) and Final Cut Pro ( ). Simply connect the HF10 to your Mac via the included USB cable, and iMovie '08 and Final Cut Pro will recognize the camcorder within seconds.
In our test footage, the HF10's video in both low-light and standard-light settings pleased our panel of experts. Colors were slightly oversaturated but looked realistic compared to our control objects. We noticed subtle motion artifacts, but they looked no worse than the artifacts we've seen in MiniDV footage; for the most part, motion appeared smooth. The HF10's video quality earned an overall Very Good rating. Our jury had a small preference for the Vixia HV30's video quality—the HF10 scored right behind the HV30.
The HF10 didn't perform as well in our still images test. Colors looked very oversaturated in a standard-light setting; in a low-light setting with flash turned on, the colors looked especially eerie. The HF10 earned a Good rating for still-image quality.
The HF10 had a meager battery life compared to camcorders we've tested in the past. On a full charge, the HF10 recorded for one hour and 21 minutes before it ran out of juice, earning an overall Good rating. By way of comparison, Sony's HDR-SR11 Handycam ( ) lasted two hours on a full charge.
Performance
| | |
| --- | --- |
| Still Image Quality | Good |
| Video Quality | Very Good |
| Battery Life | Good |
Scale = Superior, Very Good, Good, Fair, Poor
Specifications
| | |
| --- | --- |
| LCD Size | 2.7 inches |
| Optical Zoom | 12x |
| Still image resolution | 2.76 megapixels |
| Size (WxHxD) | 2.9 x 2.5 x 5.1 in |
| Weight (ounces) | 13.4 |
Macworld's buying advice
The HF10's impressive video quality and ease of use add up to a very good camcorder, especially given its size. If size is a consideration for you, the HF10 is the right tapeless camcorder; if size doesn't matter, another good choice is Sony's HDR-SR11. It's also important to point out that Sony and Canon are excellent examples of manufacturers that make tapeless camcorders that are Mac friendly. Ideally, other camcorder manufacturers will follow their lead.
[Brian Chen is a Macworld associate editor.]