Maybe it's because he knew I'd be returning from a stressful vacation and wanted to ease me back into work with a simpleton assignment—maybe not. Either way, my editor asked if, upon my return, I could weigh in on whether the iPod touch 2.0 update was worth the $10 Apple asks for it.
Yes. Yes, it is.
Now where are those Belgian waffles to which I've grown accustomed?
What's that? Oh yes, details. Allow me to enumerate:
Existing updates: As I speculated earlier, all the applications included with the $20 January iPod touch update are included with the iPod touch 2.0 update—Google Maps, Mail, Weather, Web Clips, Stocks, and Notes are all present and accounted for. If you purchased an iPod touch early on and, inexplicably, didn't update the thing in January, you now have that update and more for half the original price. (Those who feel compelled to announce their displeasure at paying twice the price for these advanced features only to have them offered for less money half a year later are invited to express themselves in the Comments area below. With sliced onions at the ready, I am prepared to cry you a river.)
New updates: The iPod touch 2.0 update provides many of the same slick features provided to iPhone users—push e-mail with Microsoft Exchange support, updated language and keyboard support, searchable contacts, support for MobileMe, multiple calendars, a calculator that switches from standard to scientific when you turn the touch sideways, support for viewing a broader variety of e-mail attachments (iWork and PowerPoint files, specifically), mass delete and moving of e-mail messages, parental controls, and the ability to take a screenshot of the iPod's interface by holding the Home button and then briefly pressing the Sleep/Wake button.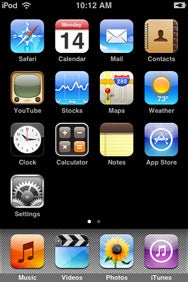 The App Store When you update the iPod touch, the App Store icon appears on the Home screen. Those who are concerned that their iPod touch, as a "lesser iPhone," will be unable to run many of the applications offered at the App Store can rest easy. The vast majority of these applications will work splendidly with the iPod touch (or, at least, as splendidly as they will with an iPhone). A few that rely on pin-point location—meaning the GPS found on the iPhone 3G—may be a little or a lot less useful with an iPod touch that can't seem to find its way with Wi-Fi triangulation.
Remote control: Given how useful and desirable Apple's Remote application is—the application that allows you to wirelessly browse and control your iTunes library and Apple TV—it's a little surprising that it wasn't bundled with the iPhone and iPod touch updates. Instead it's offered as a free download from the App Store. To my mind, this is the most immediately useful application available from the App Store and completely worth the $10 you pay for the update.
Buy once, use many: If, like me, you own more than one iPod touch, you'll be thrilled to know that you can update multiple iPod touches with a $10 single copy. As long as the update is on your Mac, you can plug all the iPod touches you own into that Mac and update them.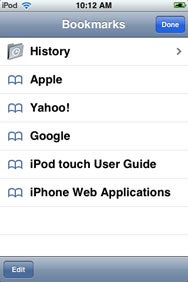 Download once, use many: Speaking of multiple uses, if you have an iPhone and an iPod touch, you win again because once you download an app from the App Store, you can place it on all the iPhones and iPod touches associated with your Apple ID. For example, on my MacBook Pro, I purchased Pangea's Enigmo on my original iPhone running the 2.0 software. I later plugged my 16GB iPod touch into this same Mac and when it synced, Enigmo and all the free applications I downloaded from the App Store were also copied to my touch. (Note that I updated the touch on a different Mac, which tells us that applications transfer because of Apple ID association rather than association with a particular Mac or iTunes library.)
Free help: After you install the update, tap Safari and check your bookmarks. At the bottom of your bookmarks list you'll find two entries that weren't there before—iPod touch User Guide and iPhone Web Applications. (Do the same with an iPhone and you see iPhone User Guide and iPhone Web Applications.) Tap either and you're taken to an iPhone and iPod touch-friendly website that provides a wealth of helpful information.
So is this upgrade worth ten bucks? Find me a better bargain on the planet and my money's yours.