The original iPhone was an amazingly capable device, but it certainly wasn't perfect. The 2.0 software update is a major improvement over the original iPhone operating system that adds dozens of new features and refines several old ones—changes many users have been waiting for since the iPhone's introduction. Perhaps best of all, it's available to all iPhone and iPod touch owners. (iPhone users can upgrade for free, while iPod Touch owners need to decide if the update is worth $10.)
The App Store
The iPhone 2.0 software only adds one new application, but it's a gateway to an entirely new world. The App Store lets you to download and install applications created by third-party developers (some for free, others at a cost).
On your Mac, the App Store is part of the iTunes Store, but on the iPhone, it's an app unto itself. Unlike its neighbor, the iTunes Wi-Fi Music Store, the App Store is available over Wi-Fi or a cell connection. The only hitch: if you try to download an application larger than 10MB, you'll be asked to use Wi-Fi or download it via iTunes on your computer.
Tapping on any application in the store takes you to a description of it and a screenshot. To buy or download an application, you tap the price: if the button reads Free, it will change to Install when you tap it; if there's a price, it will change to Buy. Once you enter your information, the App Store will return you to the iPhone's Home screen, where it will add the icon for the app you've chosen to download, along with a progress bar showing its installation process. (You can do other things while the application is installing.) If you purchase apps on your iPhone, they should copy over to your computer the next time you sync. In our tests, that wasn't always the case—if yours don't sync automatically, select Transfer Purchases From iPod or iPhone Name in iTunes' File menu to force your files to transfer.
To remove a third-party application, you can tap and hold its icon. The icons will begin to dance on the screen, and a black X badge will appear in their top-left corners. If you tap that X, you'll be asked if you want to delete the application. Because applications must store all their data in the app's package, however, deleting an application also deletes all its settings and stored information.If you delete an app that you wanted to keep, you can redownload it later for free (unlike media from the iTunes Store); you can load applications onto as many iPod touches and iPhones as you want, provided they're synced to your iTunes Library.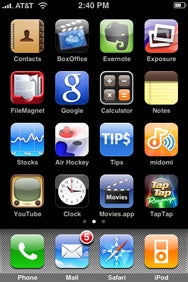 While third-party applications broaden the iPhone's abilities exponentially, they come at a price beyond the cost of the application: Because those applications and their attendant data take up room on your iPhone, backing up your phone—which iTunes does every time you sync it—takes much longer than before.
But don't worry too much about the iPhone's applications eating up your phone's storage space: while some programs, such as Apple's own Texas Hold 'Em, are plus-sized, the vast majority of the 25 applications I installed were under 1MB.
Mail
The iPhone's built-in apps have also had a makeover. Managing e-mail on the iPhone, for example, is easier than ever.
In previous iterations of the iPhone's mail program, your only option for deleting or moving messages was to do so one at a time—a royal pain if you receive all but the most minimal amount of spam. You can now delete or move multiple messages by tapping the Edit button in any of your mailboxes or folders and checking off the messages you want to modify. At the bottom of the screen, two buttons give you the option to delete or move the messages you've selected.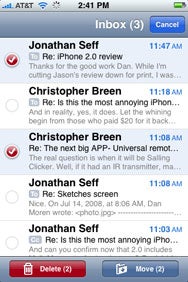 In addition, the iPhone 2.0's mail application adds a number of new fields when you compose an e-mail. You can now edit the blind carbon copy (Bcc) field, which allows you to send messages with an invisible recipient list. You can also choose which of your e-mail accounts to use when sending a message.
The iPhone 2.0 now allows you to specify backup SMTP servers for each of your accounts. The list can include SMTP servers for accounts other than MobileMe and Exchange. (U.S. phones also include an entry for AT&T's own SMTP server.)
Apple has also added better support for attachments. In addition to Word, PDF, and Excel files, you can now view PowerPoint presentations and iWork documents and play back certain audio and video files. You can also save images sent to you as attachments by tapping and holding them. Doing so will give you the option to save the selected image, or all of the attached images, to your iPhone's Camera Roll. Images are the only files you can save; other document formats are consigned to life as e-mail attachments.
Unfortunately, iPhone 2.0's version of Mail still lacks a couple of features that first-generation iPhone users have been clamoring for—in particular, a unified inbox and the ability to view and compose mail in landscape mode. (Currently, you can only use landscape mode for viewing attachments.)
Working in the enterprise
Many users of the iPhone 1.0 were disappointed that it was virtually useless in a corporate communications environment. While you could log on to some Virtual Private Networks (VPNs), the device was incompatible with Cisco System's IPsec protocol, and there was no native support for the Microsoft Exchange server—perhaps the predominant server technology in corporations.
All of that has changed in iPhone 2.0. The software update brings with it full support for Microsoft Exchange, including its ActiveSync technology, which allows for contacts, calendar, and mail information to be wirelessly "pushed" to the phone, automatically updating your device whenever that data changes on the server.
Setting up an Exchange account on the iPhone is as easy as setting up any other e-mail account: under Settings -> Mail, Contacts, Calendar, you choose Add Account… and select Microsoft Exchange. After you provide your username and password, the phone will verify that your account really exists. If it does, you'll be asked to enter some server specs that your system administrator should provide.
Setting up an Exchange account on the iPhone is as easy as setting up any other e-mail account. Once we got accounts up and running, we were able to access an Exchange e-mail account as well as retrieve contact and calendar information from the server. The iPhone's Calendar application supports Exchange event invitations—a nice feature, and notable in that Apple does not let you accept invitations from its own iCal software sent to your e-mail; you still have to handle those on your Mac.
One thing to note: Contrary to earlier reports, personal iPhone users don't need to pay the $45 corporate data plan in order to gain Exchange support.
The enterprise support also includes a number of features aimed at IT managers. They can distribute configuration profiles of phones, remotely wipe the data (sensitive or otherwise) from lost phones, and install special custom applications for use in corporate environments. The iPhone 2.0 update supports an alphabet soup of security protocols, including Cisco's IPsec VPN, WPA2 Enterprise, and 802.1x. VPN support has also been improved in iPhone 2.0: you can now set up multiple VPN configurations and the status bar will display a VPN icon when you are logged into a secure network.
MobileMe
What if you don't work in a big corporation but you still want to all your messages, contacts, and calendar information to be shared among all your gadgets? Fortunately, Apple's got a solution for the rest of us: MobileMe.
Rolled out as replacement for Apple's now defunct .Mac service, the $99/year service not only gives you access to many of the features of .Mac (iDisk, e-mail, Web galleries), but also supports the same wireless syncing of contacts, calendar, and mail that Exchange servers provide.
Setting up a MobileMe account is just like the set-up for Exchange: You tap Add An Account from Settings -> Mail, Contacts, Calendar, pick MobileMe, and fill in the relevant details. You'll then be presented with the option to sync four types of data between MobileMe and your iPhone: mail, contacts, calendars, and bookmarks. You can disable or enable any of these individually.
It's important to note that once you click on the Sync button, all the information on your device will be replaced with the information from MobileMe, so make sure you've backed up your iPhone's data first.
Once syncing is set up, changes you make to contacts, calendars, mail, or bookmarks on your Mac appear almost instantaneously on your iPhone and vice versa. Add an event in iCal, and it appears on your iPhone; change a contact's telephone number on your iPhone, and it'll be updated in your Mac's Address Book. One exception: Despite the fact that MobileMe syncs OS X Mail notes between multiple Macs, there is still no way of syncing information from the iPhone Notes application to your Mac.
Push notifications
Right now, these push services are limited to mail, contacts, calendar, and bookmarks. But Apple says it will launch a push notification system in September that any third-party developer can take advantage of.
If you prefer, you can turn off all push features for both synchronized information and third-party applications in the Fetch New Data section of the iPhone's Settings; you can also specify how frequently the iPhone retrieves data for services that don't support push. The less often you fetch data, the better your phone's battery life, since the network isn't as active. You can also specify individual retrieval settings for different accounts.
Location services
The iPhone 3G may get the fancy addition of true GPS. But even if you don't have the new hardware, the iPhone 2.0 software brings its own refinements to the iPhone's location services.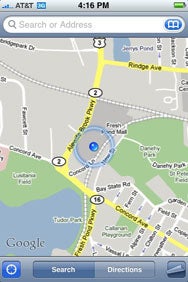 For example, the iPhone will now locate you using the most commonly useful method first—usually by triangulating cell-phone towers. It will then, if possible, try to locate you via Wi-Fi, and then by GPS.
Using that location information, the iPhone's Maps application has added an entirely new feature: tracking. When you press the locate button, Maps will continue to track your location until you press the button again. That means that, as you move, the map will update periodically with your new position. This feature works best with the iPhone 3G's GPS capabilities, which provide virtually real-time location info. But you can also use it with Wi-Fi or cell tower location—the results will just be less precise and update less frequently.
Other applications (including those by third-party developers) can now take advantage of the iPhone's location abilities. When you enter a location-aware program, or trigger a location-aware feature, the application will ask you if you want to allow the iPhone to use your current location. That information can then be used for a variety of purposes. For example, the Camera application can geotag your photos with the location at which they were taken.
Location Services is pretty smooth when it works, but I did find that on occasion it would hang; for example, pressing the Locate Me button in Maps would cause the waiting icon to appear indefinitely, and no other applications would be able to access my location. Restarting the phone always fixed the problem.
In my testing, I found that a given application will ask you if it can use your location twice; after that, it'll just go ahead and follow whichever answer you've given before. You can disable Location Services, but that will just force the application to prompt you next time you try to use a location-aware feature (although it will save you some battery life).
Wireless options
Earlier iPhone software gave you the option of disabling Bluetooth or Wi-Fi individually, or shutting off all of the iPhone's radios by switching it into Airplane Mode. iPhone 2.0 refines that a bit: now when you enter Airplane mode, you can turn the Wi-Fi back on without activating the cell phone features. That way, if you're on a flight that provides Wi-Fi access, you can still get on the Net without violating FAA regulations or using up your battery as quickly.
Users of the iPhone 3G also have the option of disabling 3G networking (under Settings -> General -> Network). If you do, you'll still have Net access, at the slower speeds of the first-generation iPhone's EDGE cell connection; your battery will last longer than if you were using 3G.
Parental restrictions
Children are getting cell phones at ever-younger ages these days. With a device as connected as the iPhone, it's understandable that parents would want some way to restrict what their kids' phones can do. iPhone 2.0 adds a Restrictions feature (under Settings: General) that can limit Junior's access to certain applications and content.
After you tap on Enable Restrictions then enter and verify a four-digit pass-code, you can disable access to four different applications: Safari, YouTube, the iTunes Wi-Fi Music Store, and the App Store. Doing so will remove that application from the Home screen and disable any links that would open in that program. You can also choose to hide tracks and videos in the iPod application that are tagged as Explicit.
Once restrictions are enabled, any further attempts to access the Restrictions section of Settings will prompt you for your pass-code; you can also find out how many incorrect attempts have been made to enter it. Be careful, though: forget the passcode and you'll have no choice but to restore your iPhone to its defaults.
International support
The iPhone has supported foreign languages since it first went on sale outside of the US. With the iPhone 3G's planned rollout to 70 countries, that support has expanded considerably. The iPhone 2.0 software now speaks 16 different languages—English, French, German, Japanese, Dutch, Italian, Spanish, Portuguese, Danish, Finnish, Norwegian, Swedish, Korean, Simplified and Traditional Chinese, Russian, and Polish—and offers 21 input methods.
While most languages use the standard touch keyboard with different layouts, Asian languages such as Japanese, Korean, and Chinese allow for alternative input methods. Japanese users can pick from a QWERTY layout or a Kana keypad, with both options allowing them to pick from suggested syllables. Korean users get a 2-Set keyboard for typing Hangul letters. Simplified and Traditional Chinese users can either use the Pinyin input method to input characters via a QWERTY layout or use a handwriting recognition method to enter characters by drawing them onscreen with your finger.
The little things
In addition to these major changes, iPhone 2.0 is rife with little but welcome improvements.
For example, when you enter a password, the field now shows you the last character you typed in plain text, making it easier to notice when you've hit the wrong key.
Apple has also solved one major headache for anyone who troubleshoots or writes about the iPhone: You can now take screenshots of your iPhone's interface by pressing both the Home button and the Sleep/Wake button. The screen will flash to white and the resulting screenshot will be stored in your Camera Roll. This could also be handy for those looking to snap a picture of a Google Map to send to a friend.
The iPhone 2.0 software also makes it easier to navigate lists such as mail messages, SMS conversations, or your contacts. You can now tap the status bar at the top of the screen (where the time is displayed) to return to the top of the list.
That's convenient, because both the phone application's contact list and the new Contacts application, which has migrated from the iPod touch, now incorporate the ability to search your contacts, but the search box is located at the top of the lists (you can also jump to it by tapping the magnifying glass icon at the top of the alphabetical index on the right hand side of the list).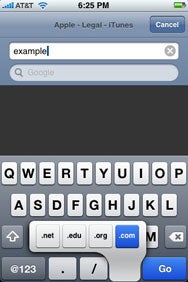 Like Mail, Safari can now also save images from the Web. Tap and hold on a picture and a message will pop up asking you if you want to save the image; as with Mail, it'll show up in your iPhone's Camera Roll. Safari has also added a handy shortcut for entering URLs: if you hold down the .com key on the keyboard, it will pop up options for the other common top-level domains: .edu, .org, and .net (this also works in other places when the .com button isn't on the keyboard but the @-sign is, such as addressing emails; in that case, you hold down the period key to get the options). But Safari still lacks any sort of password management features, which may irritate those who frequently have to enter account information for multiple sites.
For those who criticized the iPhone's original Calculator application as being too simplistic, you can now rotate the phone into landscape mode; the calculator will then become a scientific calculator, allowing you to sine, cosine, and tangent to your heart's content. Apple still hasn't fixed one of my lingering problems in the standard calculator: try dividing the largest number you can enter (999,999,999) by 2.
And as part and parcel of its newfound syncing abilities, the iPhone's Calendar at long last lets you manage multiple calendars, color-coded so you can easily tell them apart. (Unfortunately, while calendar names and events sync between iCal and the iPhone, the color of calendars do not). You can set a default calendar for events created on the iPhone (under Settings -> General -> Mail, Contacts, Calendar), and you can browse different calendars by tapping the Calendars button at the top left of the Calendar application. However, the Calendar still does not allow you to manage To Do list items or sync them between the iPhone and iCal or Mail.
Stability
With new software always comes bugs, and the iPhone 2.0 update is no exception. While my experience has included the occasional glitchy behavior as well as application crashes, on the whole I have found that the iPhone 2.0 software is relatively stable. What problems I have encountered have usually been solved by restarting the phone or, in the case of third-party applications, removing and reinstalling the application.
However, many of my colleagues have not been so fortunate with their updated phones. Several of them have had consistent problems with applications crashing or, in some extreme cases, restarting the entire iPhone. In particular, carrying out tasks while the App Store is downloading and installing an application seems to be one scenario where instability is extremely common. But the severity and frequency of such issues seem to vary widely among users.
Macworld's buying advice
The iPhone 2.0 software is full of the kind of refinements that you'd expect from a second-generation Apple product. The iPhone OS still isn't perfect, and we wish Apple has addressed some lingering shortcomings, but it's a welcome step-up for what was already arguably the best mobile platform on the market.
And support for third-party applications and the ease of distribution via the App Store means many of those gaps will likely be filled—eventually.
[Dan Moren is an associate editor at Macworld.]