Doseido Software on Tuesday introduced Headline 1.0, a new RSS newsreader of Mac OS X. The software costs $19.95, and a demo is available for download.
Designed exclusively for Mac OS X 10.5 "Leopard," Headline sports an interface that filters when the sites you check last updated their headlines — Today, This Week, This Month, All, Unread or Favorites. You can view headlines in the software or optionally using Apple's Safari Web browser.
Headline also touts built-in audio and video playback support for podcasts or video podcasts without requiring iTunes to be used. And it sports effects transitions between views and articles (powered by Leopard's Core Animation technology).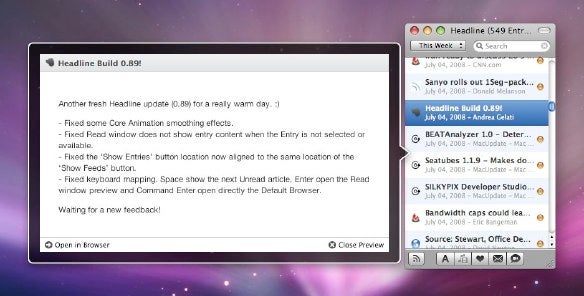 System requirements call for Mac OS X 10.5.2 or later, 512MB RAM, 4.2MB hard disk space and an Internet connection.